Passersby asked not to eat the produce until the judges have been to have a look.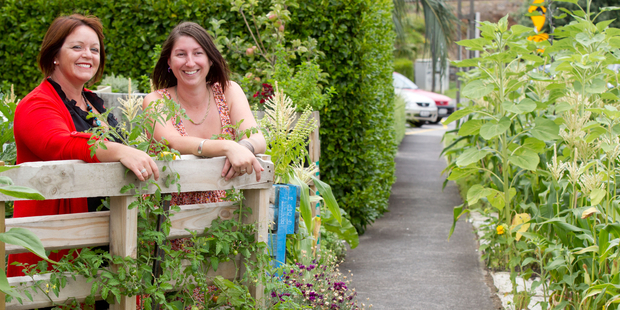 A berm in Ellerslie has been entered into a national landscaping competition as part of a vegetable, fruit and flower garden that spreads across both sides of the footpath and even has a beehive.
The 90sq m garden by landscape designer Tash Geelen was entered into the Unitec Landscapes of Distinction Awards, to be judged this week.
The landscaping business behind it, Natural Habitats, hopes it will show what can be done with a public, urban space.
Marketing manager Anya Thomas said: "We created our edible garden to demonstrate how much you can produce in a compact urban organic garden. It was also designed as a child-friendly garden where children can enjoy learning about different plants and food production.
"There are apple, plum and lemon trees and a working beehive. Herbs, lettuce, strawberries, tomatoes, corn, rhubarb, edible flowers and pumpkin will also be produced. All structural elements were assembled from recycled materials such as pallets and beer crates."
The corn is grown on the berm and the gardens across the other side of the footpath are on Natural Habitats' leased property.
Mrs Thomas estimated the cost of creating a similar garden at $10,000.
Staff hoped people would temporarily suspend picking the produce until the judges visited the firm's offices at 8 Sultan St where forklift pallets have been put to good use, as fences and for growing frames.
But Mrs Thomas said people were welcome to help themselves to the crops after that. Alan Wallace, Auckland Transport's road corridor access manager, said planting required his organisation's approval.
"Utility companies require access to the road corridor to maintain and install essential utility services. They have equipment under the grass on berms which they need easy access to in situations of outages to residents' homes etc. There are also road safety considerations in respect of plants/trees potentially obscuring stop signs and the like," he said.
"A small variety of private planting practices on berms have sprung up with residents potentially unaware of these impacts. Auckland Transport will work to communicate a clear approach to residents," he said.
Mrs Thomas said permission was not sought but the plants did not endanger traffic, obscure signs, create barriers or have any negative effects.