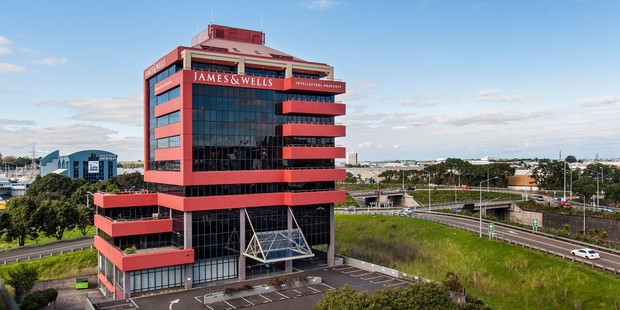 The distinctive 10-storey James & Wells Tower building alongside the Southern Motorway at 56 Cawley St, Ellerslie, has been sold by listed property company Argosy to Sustainable Property Investments for $10.4 million.
"Sustainable Property Investments, a private group of property investors, has grown its portfolio over the past five years and plans a significant refurbishment of the James & Wells building to reposition the property at the upper end of the office market," says Savills' joint managing director Paddy Callesen, who sold the building with colleague and investment broker Daniel Byrne.
Callesen says the property is in a relatively "unloved" state.
"Four vacant floors will be given a new lease of life to a level of presentation equal to quality office properties available in the Southern Corridor between Newmarket and Ellerslie," he says.
"When Sustainable Property Investments came to us with an investment brief, it was clear the group wanted a building that had a reasonable passing yield and also significant unlocked value," says Callesen.
"The James & Wells building ticked all the brief's criteria and the new owners have already rolled up their sleeves to draw the unrealised value from the property."
He says existing tenants say the property's strengths are its closeness to the motorway, its location between the CBD and airport and being near Ellerslie's cafes and railway station.
"Plentiful parking with the ability to add further space to the existing 500sq m to 650sq m floors is also seen by the new owners as significant upside for finding fresh tenants."
The property has 5401sq m of net lettable versatile office space, including balconies, plus 145 car parks at a ratio of one park to every 37sq m on a well-landscaped and sealed site.
"Refurbishment work is already underway and a leasing campaign has started with agents working the Southern Corridor," says Byrne.
Byrne says the Southern Corridor has the lowest vacancy rate of all office precincts across Auckland.
"The campaign's timing could not be better as vacancy levels plummet to 3 to 4 per cent with limited comparable alternative space on the market.
"Demand for offices in this area has grown over the past year as tenants take advantage of attractive rents and parking costs compared to CBD rates.
"There is also little new development stock coming on stream in the Southern Corridor, giving Sustainable Property Investments room to reap the rewards from intelligent expenditure and smart leasing of a landmark Auckland property."
Byrne says James & Wells is leaving the building and naming rights to one of the most prominent properties facing the Southern Motorway will be available to any incoming tenant wanting business profile.
"The tower is a well-known local Ellerslie landmark," says Byrne.
"In one of the most popular suburban office precincts, it has a superior outlook with great views, a highly visible profile and varied tenants."