7 SPENCER ST, REMUERA
SIZE:
Land 774sq m (approx); house 377sq m (approx).
PRICE INDICATION:
CV $1.63 million. Interest is expected to be above $2 million. Auction on February 26.
INSPECT:
Sat/Sun 1-1.45pm.
SCHOOL ZONES:
Victoria Avenue Primary, Remuera Intermediate, Auckland Boys' Grammar and Epsom Girls' Grammar Schools.
CONTACT:
Richard Lyne, Ray White Remuera, ph 021687000 or (09) 520 9100.
FEATURES:
*plus osp for 2.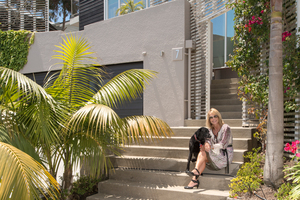 Twenty-eight years ago, a Noel Lane-designed home began its architectural evolution on a steep, narrow section that looks west across the leafy valleys of Remuera. With challenging topography underfoot and a brief from visionary clients keen on colour, he put together a home like no other in the street, and it intrigued neighbours and busloads of tourists alike.
The house ticked all the boxes, complying with site constraints, the spaces that families need within and the owners' love of greens, blues, yellows, pinks and purples.
And for its latest owners, Kerrin Wallace and Bruce Parton, both savvy enough not to judge a home solely by its colour palette, it has been an ideal fit for 14 years as home to their two teenagers.
"It's such a beautiful home," says Kerrin of their home with its newer predominantly white/black/charcoal palette. "It was built for family, for the sun, for warmth and for entertaining."
Much has changed cosmetically but comparatively little has changed structurally. In 2008, Noel Lane returned to this home with renovation concepts to suit this family's specific needs, but he is most familiar with the original house that was built in 1986/87, five years after he established his architectural practice.
His challenges back then included maximising natural light and privacy, which he achieved by balancing the solidity of the home with windows placed to give the rooms light from two directions wherever possible. In the living areas he incorporated glazed roofing to complement windows on two sides. "Light makes it an easy place to be in and it's preferable to get light into every room from morning 'til dusk," he explains.
The intriguing angles within this house maximise the floor space and give the ground-floor living areas the best possible connection with the rear elevated garden and the west and north-facing decks. The sweeping curve of the internal upstairs balcony above the front entrance was about creating a communal area between the master bedroom to the west and the children's wing to the east. "It was designed as a place where people could interact between the levels easily," Lane explains. "There was a study upstairs and one downstairs so when you were working you didn't need to walk downstairs to talk to someone."
As part of the latest renovations, two children's bedrooms have been created out of the larger of the two original children's bedrooms. Downstairs, the casual living area was extended into space that used to be an activities room and connected to the dining area and the new stainless/marble kitchen with German fossilised flooring tiles.
Says Kerrin, "When we moved furniture, everyone was spotting the next cool thing in the tiles - the darts, the conch shells, patterns - things we'd never noticed before."
In the new bathrooms, large format charcoal tiles complement wall-mounted cabinetry. Nearby, smoked oak timber floors have replaced multi-coloured floor tiles into the atrium, semi-circular music room that has also functioned as a formal dining room looking directly out to the pool. Steps off this room lead into the formal lounge, with its new fireplace and original built-in bar.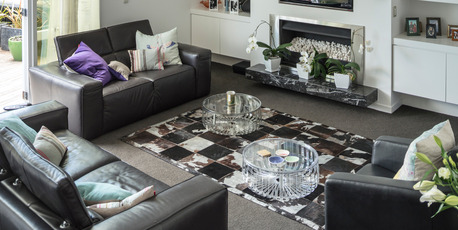 Across the front of the house, a curved trellis facade softens the effect of the reflective glass, another original feature specified to keep summer heat out and draw winter heat in. Lane envisaged this dramatic trellis draped in greenery to complement the surrounding neighbourhood and soften the view of the house from across the valley.
"It was about breaking the scale of the house from the street and jostling with the forms of materials so that it still sat with the community even though it was still different," he explains.
Now that this iconic residence has proven its functionality twice over, there's an opportunity for another family to put their own stamp on its landmark form.