50 TRAM VALLEY RD, SWANSON
SIZE:
Land 4.81ha (approx), house 420sq m (approx).
PRICE INDICATION:
CV $1.25 million. Set sale date 3pm, February 12.
INSPECT:
Sun 3-3.45pm or by appointment.
SCHOOL ZONES:
Swanson School, Waitakere College.
CONTACT:
Amy Giddins, ph 021 167 8222, or Angela Little, 021 421 967, Bayleys.
FEATURES:
Character home with plenty of internal brick, three fireplaces and privacy. Separate large individual living rooms with en suites and balconies and stunning views. Fenced pool with elevated outdoor barbecue areas. Possible B&B. *1 single carport plus 6 off-street parks.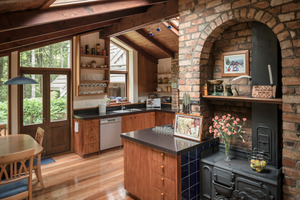 When Brits Nick and Jenny Woodward faced the prospect of moving halfway around the world for Nick's new position in New Zealand's communications industry, they happily bade farewell to the grassy meadows and bluebell woods that surrounded their pretty little village near High Wycombe. They took up residence in a different environment altogether; the stunning native forest of Swanson, one of Auckland's western-most suburbs.
"The minute we saw it, we fell in love," says Jenny, recalling the day they first laid eyes on the Tram Valley Rd property nine years ago.
"It was huge, and it offered so much!"
With two lively teenage boys, they needed a property with space, and that's certainly what they got: a dwelling approximately 420sq m on a 4.82ha piece of native bush-clad land with generous grassy areas, a surprisingly short 20-minute train ride from the CBD.
"I was used to commuting in the UK so I thought nothing of it," says Nick.
"The station's practically at the end of the road, but even if I ride my bike to work, it only takes an hour or so. Then I can be back here, sitting in the pool with a beer by 6 o'clock."
Jenny was taken by the kitchen in the 1970s wooden home, which had been lavishly extended by previous owners.
"There's a cute little coal range, which the lady before me used for cooking, but I'm a keen baker, so I like the modern wall oven better!"
The kitchen is well-appointed, with a huge pantry. A skylight allows the sun to stream in, so even in winter this is a cosy, comfortable space.
In fact, "huge" is a word that applies to practically every part of this remarkable house.
The Woodwards have played host to many visiting relatives over the years, and Jenny laughs when she recalls an aunt from England who once declared that she needed a map to find her way around.
Five enormous bedroom suites enjoy five generous bathrooms.
"I can take my pick of the baths around the house," smiles Jenny. "They all have native bush views, but I'm most keen on the spa bath in the en suite by our room."
There are two large living rooms, a little sunroom - where Nick likes to watch football - and a number of balconies and decks, where many happy meals have been shared, and where Jenny relaxes in her hammock.
The sum total of beds and baths even includes a dinky little chalet, semi-attached to the main dwelling and known as "Matthew's house", after the son who used to live there.
Three open fires ensure warmth in winter, along with diesel-powered central heating, and in summer the house can be opened right up, allowing a breeze to circulate and cool any heat-frazzled inhabitants.
The house boasts its own sauna, and outside a sparkling pool lies beside extensive decks and a pleasant patio zone.
The property sits on about 480ha with paddocks, fruit trees, and plenty of room for ponies and chooks.
Both Nick and Jenny are quick to point out that the neighbours are lovely, and they can't quite imagine next November without the neighbourhood bonfire-night celebrations for which they've become well known.
"We're not in each others' pockets, but once you've come over the private bridge, into our little community, you're really among friends."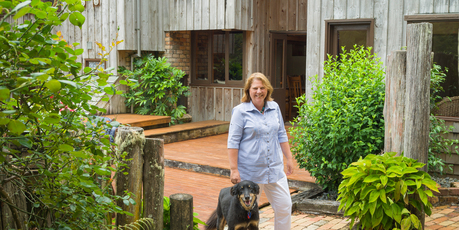 Surrounding the property are attractions such as Crystal Mountain - a selection of crystals and minerals in a park-like setting, and a number of excellent bush walks.
"We had something like 12 guests from overseas here recently, and they were really amazed at how easy it is to fill your day!" says Nick.
Now the boys have left home, the house is too big. "We don't know where we're going, but it will be good." Jenny confides.
"This house simply needs a new family now."