148 UPLAND RD, REMUERA
SIZE:
Land (approx) share 731sq m, house 164sq m.
PRICE INDICATION:
CV $1.03 million. Auction February 5 (unless sold prior).
INSPECT:
Sat/Sun 12-12.30pm.
SCHOOL ZONES:
Remuera School, Remuera Intermediate, Auckland Grammar, Epsom Girls' Grammar.
CONTACT:
Cathy Roselli or Jonathan Beaglehole, Ray White Remuera, ph 021 750 454 (Cathy) or 021 380 080 (Jonathan).
FEATURES:
Charming double-Grammar zoned 1920s shingled cottage above internal- access double garage, set in elegant gardens.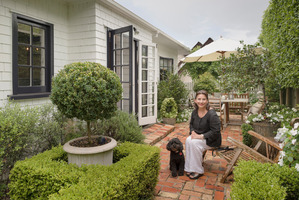 Sue Porter thinks back to buying this pretty shingled cottage nearly 20 years ago and says simply, "It wasn't a 'head' decision, it was a heart decision".
She was renting in Kohimarama and driving past when one of her daughters urged her to stop at an open home at the picturesque 1920s home covered in timber shingles.
"The outside of the house was pretty, with a pretty garden."
She got to the lounge, where light poured in the French doors and flowed in the heavily paned French windows and thought, "Wow, I can see myself here. It felt like home."
"It was definitely all about emotions - I can remember going home and saying, 'Actually, where was the bathroom?' I really hadn't noticed things like that."
The fact it was handy to her St Cuthberts School workplace, where Sue now teaches values and religious education part-time, was a bonus.
There's plenty about this charming property to stir the emotions, with its elegantly simple gardens and Sue's talents with decor.
"I have a dear friend who's a little bit aghast I'm selling, because she says 'Every time I come here I feel happy'."
The rational attractions also stack up with its central location just down from Benson Rd Village offering prized double Grammar-zoning, hedged privacy, an alarm and internal-access double garaging downstairs.
Sue has three grown daughters; the younger two were teenagers still at home when she bought here in 1995. The cottage still rings with the chatter of family as her grandchildren often visit.
She understands someone owned the 1920s home for many years before the family she bought from made alterations, including adding downstairs garaging and subdividing off a rear section.
There was a cottage garden with roses here 20 years ago but about a decade ago Sue asked landscaper Dennis Chua for a "simple and elegant" garden. "It's brought me enormous joy and a lot of my friends comment on the garden."
Other improvements she's made include re-coating and re-painting the concrete roof tiles, installing a gas fire and renovating the kitchen and the bathroom.
Clipped hedges topping a picket fence instil the cottage and grounds with privacy. Entry through a pedestrian arbour reveals an old-world brick path curving through front lawns and clipped greenery, including camellias.
An entry foyer leads to the restful lounge with chandelier-hung beamed ceilings and gas fire, opening to a private north-facing courtyard.
"Sometimes I just sit there and think, 'this is such a beautiful room'."
Sue's reinvention of the neighbouring dining room-lounge uses white cabinetry to complement its light wooden benches. French windows made up of multiple smaller panes, and native wooden floors feature throughout the cottage.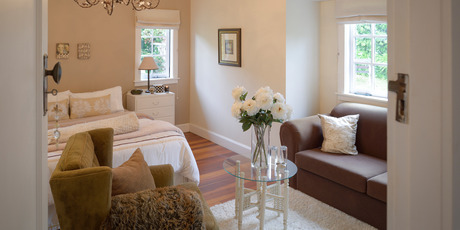 Her elegant front bedroom is accompanied by two rear bedrooms. One of these is set up as a library, painted in an olive-green inspired by a room she saw in Huka Lodge. The wood-panelled bathroom with bath, a cupboarded laundry and stairs to the double garage (with storage) are off the entry foyer.
Sue's letting her heart guide her again with her decision to move on; she grew up by the sea and enjoys frequent beach visits with poodle Nico. She'll move in with one of her daughters while she explores a long-held yearning to live by the sea again.
"When I leave this property I want to say 'thank you' to it, because it's become like a wonderful friend.
"It's truly been a heavenly refuge."