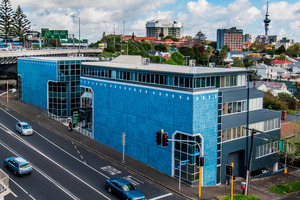 The large multinational company which introduced the Zimmer frame mobility aid to the world and which now produces a wide range of sophisticated medical and dental products, is the anchor tenant of a central Auckland office property being syndicated with a projected initial cash return of 9.2 per cent per annum.
Minimum share subscriptions of $50,000 are being sought in a new company called 210 Khyber Pass Investments Ltd, which will own the five-level 3000sq m fully leased office building and 1555sq m of land located at this address.
The offering is being promoted by Maat Consulting Ltd while Brian Caldwell, an authorised financial adviser with Devereux Howe-Smith Realty, Bayleys' North Shore commercial franchisee, has been appointed to market the shares.
Applications for shares in 210 Khyber Pass Investments Ltd, which must be made on the form in the investment statement and prospectus, close on December 9.
"This is a strategic freehold site in a well established fringe Auckland CBD location with a global leader in the supply of orthopaedic equipment as its main occupant and a good spread of other tenancies providing multiple income streams," says Caldwell.
Zimmer New Zealand occupies just over 45 per cent of the building's lettable area, encompassing two of the four office levels. The property has been the company's New Zealand base for the past 10 years. It doubled its tenancy size in February this year and its current lease terms run until mid 2019, with three four-year rights of renewal. Zimmer's rental is adjusted upwards in line with Consumer Price Index (CPI) increases in September each year.
Zimmer New Zealand Ltd is a subsidiary of the American headquartered Zimmer group of healthcare companies, which was founded in 1927 and employs around 9000 people worldwide. It produces a comprehensive range of joint replacement implants, instruments and biologics as well as other surgical and dental equipment.
The company distributes some of these products in New Zealand from the Khyber Pass building, with loading docks on each side of the ground floor of its tenancy, which is close to the Auckland motorway system.
"The company likes the building and location because it is near to the main hospitals that carry out knee and hip replacement surgery and has easy motorway connections," says Caldwell. "This is a growing business given the ageing baby boomer population in New Zealand."
Other tenants include the Government funded Auckland Primary Health Organisation (PHO), which has a new six-year lease; Taxicharge, which provides administration services for shareholder taxi co-operatives throughout New Zealand and has been located in the building for eight years; and Australian-owned The Knowledge Warehouse Unit Trust, which operates a market research and call centre business, focusing on the Australian market, in Auckland, Sydney and Melbourne.
The Khyber Pass Rd offering will be the seventh that Maat Consulting has syndicated in the past 3 years. It has successfully syndicated properties in Auckland, Whangarei and Whakatane, with a combined capital value of $60 million and ranging from $4 million to $25.5 million.
About 45 per cent of the purchase price of these properties has been funded by bank loans, with the balance sourced from investor subscriptions. The Khyber Pass property is to be bought for $8,275,000, with a loan of $3,230,750.
Maat also manages all the properties it syndicates on behalf of investors and will be responsible for paying monthly income distributions, arranging monthly financial and property management reports and organising appropriate insurance for the building, as well as overseeing the building's day-to-day property management requirements.
In the investment statement and prospectus for the Khyber Pass offering, Maat says it identified the property as being suitable for investors according to the criteria it applies for syndication: the quality of the building (its condition and location), the quality of the tenants and the projected dividend return of 9.2 per cent with the opportunity for future capital growth.
Caldwell says a company structure was chosen for the syndication because of the tax effectiveness offered by being able to operate it as a portfolio investment entity (PIE).
He says the building has an A Grade IEP seismic evaluation and significant internal renovation work has been undertaken over the past two years by vendor 210 KPR Ltd which also focused on strengthening the property's tenancy profile. Upgrading work undertaken has included refurbishment of common areas including the toilets and lift lobbies, recarpeting and replacement of ceiling tiles in a number of tenancies as well as an upgrading of air conditioning and fire protection. The building has basement parking for 52 cars.
"The property at 210 Khyber Pass Rd is located in a growth area where there is likely to be good tenant demand for premises for the foreseeable future," says Caldwell.