60 SCANLAN ST, GREY LYNN
SIZE:
Land: approx 480sq m; house: approx 228sq m
AUCTION:
6.30pm, Thursday, November 14. Venue: 422 Richmond Rd, Grey Lynn (Unless sold prior).
PRICE INDICATION:
In excess of CV $1,290,000 (2011).
SCHOOL ZONES:
Richmond Road Primary School, Ponsonby Intermediate School, Western Springs College and Auckland Girls' Grammar.
CONTACT:
Tricia Lafferty ph 021 611 205 or Kym Aikin ph 021 596 222.
FEATURES:
Redesigned by Marshall Cook. Walking distance to Ponsonby Rd. Close to popular shops, restaurants, cafes, bars and major bus routes. The property also boasts a large separate laundry and a flat rear west- facing section.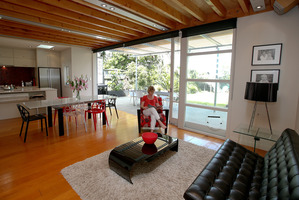 As you might expect, the Grey Lynn home of retired New Zealand golfer Marnie McGuire has a big backyard with a neat, flat lawn - perfect for chipping an occasional ball or two.
"Oh yes, I've been known to do that," she admits with a smile.
A cute Wendy house at the rear of the section was one of the things that first attracted Marnie to the property eight years ago, and although her young son Max doesn't use it often - he's not keen on cobwebs, he says - visiting children always make a beeline for it.
"I love this garden," says Marnie. "And most of all I love the view. You can see all the way to the Waitakeres, and the sunsets here are absolutely beautiful. I can sit out here for hours, just enjoying it all. At night, with all the garden lighting going, it looks amazing, and there's a great irrigation system too. I've got all my vege plants growing here."
From the street, you'd never guess how expansive the house is. A bright, wide hallway has two ample bedrooms on each side.
The master suite includes a bathroom and walk-in wardrobe. There's loads of space for everything," Marnie says. "Because there's only Max and me here, he's always been able to use one of the bedrooms as his playroom, and he loved that!"
An airy, well-appointed open-plan kitchen, dining and living area segues seamlessly on to the extensive patio. There's a large separate laundry which Marnie has considered turning into a scullery, but it could also make a good home gym or storeroom.
The main bathroom is generous and classically elegant, with quality fixtures. On the upper level of the house is the huge, sunny media room with copious space for seating.
Marnie and Max, their friends and family have made great use of it during their time here.
"It's so good having the projector set up permanently, and being able to watch movies on the big white wall. This is a fantastic house for entertaining when you consider the media room - and the open-plan areas downstairs. You can have lots of people here and it never feels crowded at all."
The bulk of the renovations were undertaken by the home's previous owners using architect Marshall Cook, and Marnie hasn't needed to do anything major during her time here. "I've just changed a few paint colours. Everything else was fine. It's a really easy house to live in.
"It has double glazing and two heat pumps so it's always warm in winter, and there's gas water-heating and cooking.
"We're really close to Ponsonby Rd and all the shops and restaurants but it's also very quiet and private. When you're outside, there's nowhere your neighbours can see you, which is great."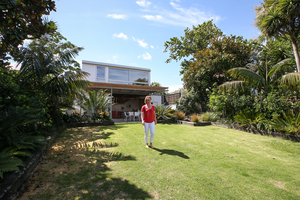 Marnie is doing a graduate diploma in primary teaching next year and even though she no longer plays, she is still very much interested in the golfing world. Her next home is certain to have a big lawn - just in case Max wants to follow in her footsteps and needs space to practise his swing.
"I love the house and Max and I will really miss it, but it's time to move on.
"This would be a super home for a bigger family, as it's zoned for good schools, or maybe for a young professional couple.
"I just feel that the time is right for us to make a lifestyle change."