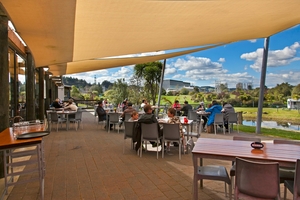 The Huka Prawn Farm, one of Taupo's biggest tourist attractions and the only venture of its kind in New Zealand, has been placed on the market for sale as a going concern business on property leased from the Crown.
The sale includes resource consents, the rights to extract heated thermal and river water and the intellectual property for the individual properties.
Located at 201 Karetoto Rd, the Huka Prawn Farm occupies 12ha of land overlooking the Waikato River near Taupo and includes a prawn hatchery, restaurant and activities fun park.
"This business presents an opportunity to expand an already thriving operation based on one of the country's favourite pastimes," says Paul Dixon of Bayleys Auckland who, with colleagues Jacqui Dellar and David Bayley, is selling the business by deadline private treaty closing at 5pm on Thursday November 7.
Dixon says that in a recent Horizons Research Survey, fishing was named the most popular participatory sport in the country with five times more people hooked into the pastime than playing rugby.
"The Huka Prawn Park is the only place in New Zealand where anyone can fish for giant fresh water prawns," he says.
"The tourism and leisure market is expected to continue growing during the next five to 10 years and this tourist venture offers the opportunity to grow with it."
The prawn operation dates back to 1987 when a pilot farm was established on the existing site to breed a species of Malaysian giant fresh water prawn.
The business has since been developed and had millions of dollars invested to grow into a major tourist attraction, spearheaded by the attraction of prawn fishing.
Normally the tropical invertebrates would be unable to live in the chilly river temperatures, but through heating the water to 28C with geo-thermal energy, the prawns thrive in the park's environment.
The business is made up of three divisions.
There is a 1700sq m prawn hatchery and 6ha farm including 19 prawn growing ponds; a restaurant specialising in prawn dishes but not exclusively; and a children's activities fun park which includes prawn fishing, education and adventure walks, trout feeding, water activities and geothermal features.
Baby prawns are fed and grown at the prawn hatchery where geothermal energy is used to heat fresh water circulating through the ponds.
When fully grown at around 16 weeks the prawns are harvested and supplied to the company's restaurant.
In addition, about 250,000 prawns are produced at the hatchery each year for live prawn fishing. Dellar says this figure has increased dramatically in recent years and the trend is expected to continue.
Huka Prawn Park Restaurant, located on the banks of the Waikato River is one of the largest a la carte restaurants in Taupo. Catering mainly for daytime patrons, it can seat 200 patrons inside and 150 outside under canvas sails.
"The evening potential market is currently underutilised and strategies are being developed to address this," Dellar says.
"The restaurant serves close to 70,000 patrons each year and is particularly popular with Asian customers from Hamilton and Auckland. The restaurant's size, position, menu and value for money particularly lends itself to group functions, and few facilities in Taupo have a comparable capacity and none with its scenic outlook."
In recent years the business has diversified to establish a fun park. Activities at the park have evolved around the growing ponds of the prawn farm, with an added fun walk, guided tour of the hatchery, water novelties such as water jets, obstacle courses, rainbow trout feeding and prawn fishing.
"Its target demographic is families and a younger market, but it is also very popular with domestic and international travellers and it is projected to attract more than 73,000 visitors during the current financial year.
"The business presents several opportunities for expansion and growth," Dixon says.
"One vision is to cover a section of the fishing ponds with a clear roof and drop down sides to create a weatherproof environment when necessary to ensure higher visitor numbers in the winter months.
"Another option would be to expand the area for additional activities to take place.
"With more than three hectares of unused flat land and substantial reserves of geothermal energy available, opportunities are many and varied and perhaps are only limited by imagination," says Dixon.
"As a tourist attraction, the business has gone from strength to strength and offers a potential buyer a successful business in a niche market, with multiple opportunities for development in a flourishing tourist industry."