1 Macky Ave, Devonport
SIZE:
Land 564sq m, house 200sq m.
PRICE INDICATION:
CV $1.95 million.
INSPECT:
Wednesday 5.30-6.30pm Saturday, Sunday 12.30-1.30pm.
SCHOOL ZONES:
Takapuna Grammar, Belmont Intermediate, Devonport School.
CONTACT:
Diana Murray, Harcourts, ph 021 911 522.
FEATURES:
A 1924 character home just down the road from Cheltenham Beach totally private behind an ivy-clad wall. Stylishly renovated in a light-filled contemporary style, with formal and informal living options, covered outdoor dining loggia beside a delightful pool. Two fireplaces, four double bedrooms, master suite with balcony and sea views.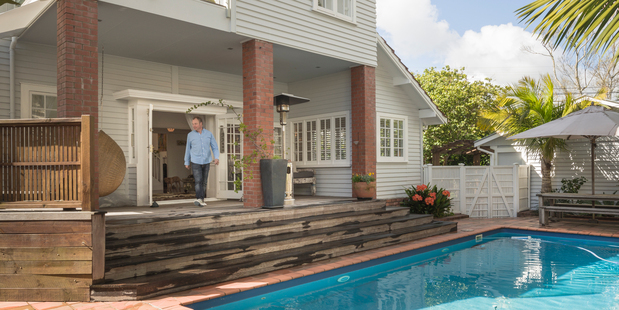 One shouldn't be surprised when an award-winning ad-man starts describing his house in romantic terms. If anyone knows that we fall in love with the sizzle, rather than the sausage, it would be Toby Talbot, creative head of agency Wybin/TWBA.
"It's that classic Kiwi cliche we expected when we moved to New Zealand, you wanted to be close to the beach. We spent last year back in the UK and there was this gravitational pull to get back here and feel the sand between our toes," says Toby.
He and wife Jo moved here with their then-teenage daughters from "further" out in Devonport, in 2005, drawn to the elegant 1924 weatherboard and tile house less than a block from Cheltenham Beach.
But the Doctor's House, as it was known in the neighbourhood, was not at her best: dark, and tired, it hadn't been worked on since the 80s when a master bedroom upstairs, pool and covered loggia downstairs had been added to the two storey house.
The proportions of the house were lovely, but Toby says the rooms were dark with heavy, old, tiled floors and the kitchen was cut off from the garden and sunlight.
He notes wryly that the family did not do the smart thing and move out during the renovations, but lived in the chaos while each section was worked on.
First on the agenda was total rewiring, re-plumbing and adding insulation - boring stuff that made the old, cold house warm and liveable for British folks used to cosier homes.
The best bit was recarving the floor plan to make four good bedrooms and a second family bathroom upstairs, a cosy reading library off the formal living room and generous family room off the kitchen downstairs.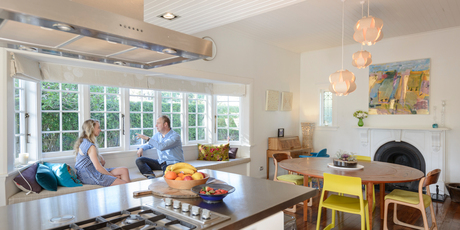 The couple, with their architect, scooped in the sunlight through unexpected means around the house: pushing out a generous bay windowseat beside the kitchen to draw in morning sun, knocking out french doors to the north for an eating area and a surprisingly productive potager garden off the deck.
In this room, as well as the generous stainless-steel island bar, an old-fashioned wood fire, original to the house, creates the second focal point.
"In winter we have trouble dragging people away from here," says Toby. Summers, friends and family wander down to the beach of an evening, often finishing their pudding course by the sea: "we think of North Head as our garden".
Which is a bit unfair on the actual garden. The classical front yard, complete with gracious old tree, gives way to a tropical landscaped pool and spa.
Many a rainy Auckland evening the family have given thanks to earlier owners who had the foresight to create a generous all-weather covered porch when they renovated in the 80s.
Toby and Jo reconfigured the formal living and sunroom that opens into it to create a modern suite of spaces, light-filled from morning to sunset.
They knocked through a funny old bathroom, tucked behind the fireplace, adding a skylight to create a double-height library/study for Jo's book collection (suitably supervised by the portrait of a po-faced great-great-grandfather). Laundry and utility rooms next to this were reconfigured to make a handy bathroom for the pool.
Upstairs, the family re-arranged the layout to create four good-size bedrooms (one is used as a media room) and a pretty attic-style family bathroom.
The couple updated their master bathroom, and extended the closet (Toby admits to Imelda-like tendencies in the footwear department), but left the wall of french doors opening to a glass-faced balcony with views all the way to the Rangitoto lighthouse.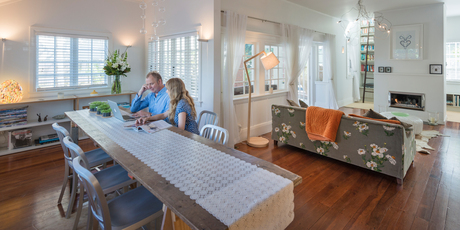 But, with their two girls now grown, it is time for the Talbot family to move on, no doubt to another house with a great yarn to tell and as much sizzle as this gem.