Takapuna property has three well-established tenants and gives chance to buy into popular area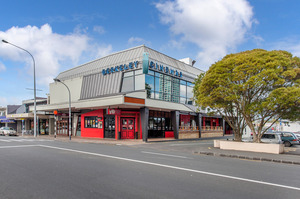 A Takapuna investment property occupied by a Hoyts cinema and two restaurants is on the market.
The Berkeley Cinema building at 32-34 Anzac St is being marketed by Jimmy O'Brien, Tim Lichtenstein and Euan Stratton, of Colliers International, and is for sale by deadline private treaty closing on October 23 unless it is sold earlier by negotiation.
O'Brien says the freehold property offers a rare opportunity to acquire an investment holding in the centre of Takapuna's retail and commercial district.
"Given the growth forecast for the Takapuna business district and Auckland as a whole, this property represents an excellent chance to purchase a high-profile, well-located holding with three separate tenancies to spread the investment risk."
Lichtenstein says the property is enhanced by its long-term lease to an international brand anchor tenant - Hoyts Cinemas (NZ), which is owed by Pacific Equity Partners, Australasia's largest private equity firm.
"The strong tenant covenant provided by Hoyts will be a big plus to prospective buyers," Lichtenstein says.
"Along with its location in a thriving retail and commercial hub, this property has all the fundamentals buyers are looking for in a commercial property investment."
The three-level, 1738sq m building is on an 872sq m freehold site and generates $709,644 in net annual rent from its three tenancies.
Hoyts occupies 1255.5sq m, including an entry foyer, ticketing and lounge area. Its space includes 460 seats in four cinema auditoriums.
The property was built in 1999 on the single-screen Tudor cinema site.
The company holds a term of nearly nine years with the right to renew for a further eight years.
"This location has become a cinema institution and has entertained locals for more than 50 years," O'Brien says.
He says the cinema exhibition industry in New Zealand and around the world is thriving. Statistics show steady growth over the last 10 years with New Zealand ranking sixth in the world for admissions per capita.
Global box office revenue is expected to grow 5.2 per cent annually over the next five years, reaching $48.9 billion annually by 2017.
Two restaurants adjoin the Anzac St frontage at street level. Al Forno, an Italian restaurant and wood-fired pizzeria that includes a bar area, is on the eastern corner of the ground floor. It occupies 168.5sq m on an 8 year lease term with the right to renew for a further four years.
Sakebar Nippon has occupied its premises since 2011 and is an offshoot of the Sakebar Nippon in Epsom, which has been operating for more than 11 years.
The Japanese restaurant has a 318sq m space on an eight-year lease, with an eight-year right of renewal.
"The convenience of this central location and nearby parking make these restaurants popular with locals and cinema-goers looking for a pre- or post-movie meal or drink," says O'Brien.
The property is well positioned among national retailers, next to Takapuna's main council car park and close to the Shore City shopping centre.
"The huge profile this property has to busy Anzac St, in a tightly held, low vacancy area, makes it desirable among occupiers and presents a hands free investment, with rent reviews on all three tenancies providing the potential for future income growth," O'Brien says.
Takapuna, a 10-minute drive from Auckland's central business district, is experiencing buoyant growth and popularity, he says.
"The strong growth trends at play in Takapuna have resulted in an increase in confidence and activity in the area with its future growth prospects looking good.
"This increased activity signals the suburb's transformation into the North Shore's central business hub, in line with Auckland Council's plans for the city.
"Substantial projects are either under way or in the pipeline over next few years. These will incorporate apartments, offices and mixed use commercial; along with car parking, specialty retail and bars and restaurants - a broad range of projects which will inject a huge boost of vitality into the Takapuna central business district."
The new developments will result in a more intensive mixed use live-and-work environment.
This will have significant positive flow-on effects for the property market - and these effects have already begun, with several buildings being upgraded to remain competitive as the business district is revitalised.