Advantages offered in Avondale industrial area will be enhanced when the Western Ring Route connection is completed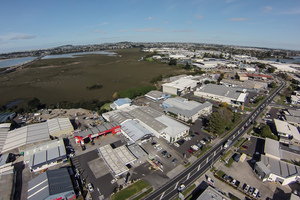 Five buildings on one site in the sought-after Rosebank industrial area of Avondale are being offered for sale on behalf of Rosebank Road Properties.
"The five present lucrative opportunities for purchasers on many different levels," says Simon Farland, director of investment sales for CBRE, who is marketing them for sale with colleagues Brent McGregor and Bruce Catley by deadline private treaty closing at 4pm on November 14 unless they sell before by negotiation.
"With strong incomes and a location that is well set up for growth, the properties offer options, income and a sizeable portion of land when competition is heating up around the city for land with this type of zoning," Farland says.
McGregor, senior managing director for CBRE New Zealand, says the five buildings are on one site at 637 to 651 Rosebank Rd.
" The properties have a total building floor area of 6667sq m on a combined land area of 13,473sq m," McGregor says.
"The buildings range in size from 429sq m to 2966sq m so there is good variety across the various spaces. Those at 637 and 651 are quality, standalone premises with excellent frontages to the main road. The other three buildings at 639, 641 and 643 are in good shape but present a significant upside opportunity should a purchaser choose to redevelop or refurbish them."
Individual details are:
637 Rosebank Rd, the standout of the five, is on a 5215sq m site with a building of 2966sq m. It has two levels of quality office space, amenities, warehousing, mezzanine and workrooms, and offices which have been refurbished and upgraded to a high standard.
639 Rosebank Rd is a standalone 1970s warehouse and factory with 685sq m of rentable area. It is pre-dominantly factory but features an internal office and showroom, and a yard of 500sq m, making the site well suited to a manufacturing operation. The building offers the potential for owner occupation with shorter term holding income in place.641 Rosebank Rd is a 1990s industrial building operating as a gym. It includes a warehouse, separate dangerous goods warehouse and an office and amenities. The property has very low site coverage of 27 per cent so there is potential for development if the buyer wants to add value.
643 Rosebank Rd is an attached 1980s warehouse building with a small office, and a stud height rising to 5.25m. It is used as a bulkstore and has a total floor space of 838sq m on 1173sq m of land.
651 Rosebank Rd is a standalone property with recent upgrades making it an attractive offering within the portfolio. Fronting Rosebank Rd, it has two levels of good-quality office and amenities, with a warehouse at the rear. Three tenants occupy the well-presented building which has a total rentable area of 1790sq m.
McGregor says that each of the five buildings provides a quality investment opportunity in its own right.
"CBRE is expecting interest from investors looking to take the whole site and also from smaller investors looking to snap up one or two of the premises," he says. "The site has excellent access for vehicles and goods deliveries, which is a requirement for any logistics tenants. The buildings are arguably located on the preferred side of Rosebank Rd and the site has good, wide frontage of around 100m to the street.
Favourable zoning of Business Activity 6 allowing for medium to heavy industrial activity adds another appealing element of the offer: "There is very limited supply of land with that zoning elsewhere in the city making this opportunity all the more attractive as a strategic investment."
Seven tenants lease space across the five buildings, with a yearly return of $732,315 plus GST.
Farland says varying lease terms and occupancy arrangements across the seven tenancies offers a good blend of income stability and arrangement flexibility.
Tenants include Derek Corporation, Nelson & Robertson, Dunlop Flooring, Zealous Fitness, Horticom, College Hill Productions, and the WMSCOG Trust.
Rosebank Peninsula is the closest industrial precinct to the Auckland CBD and the Ports of Auckland and is only 11km from the city.
Bruce Catley, managing director of CBRE South Auckland, says businesses are increasingly seeing the benefits of the area with growth in the west expected to be buoyed by significant infrastructure now under way that will vastly improve access to the rest of Auckland.
"This is a well-established, dynamic, fast-growing and highly successful area," Catley says. "The bulk of the activity in this area is in manufacturing, transport, warehousing and distribution business service sectors, so there is a good spread of users here at any one time. International and national tenants also work nearby, so it's not just local businesses attracted to the area."
Catley says premium space in Rosebank Rd is in demand with limited new development in the precinct. "Additionally, prime combined net effective rents in Rosebank are currently displaying upward movement after remaining stable for the past two years."
He says changes to the employee composition of Rosebank peninsula will also see more demand for space in the future.
"The Rosebank peninsula has more than 8300 people working here at present, but expectations are that there will be 10,000 more employees in this area by 2030.
"The Auckland Council has identified Rosebank peninsula as a location that will be a major beneficiary of that increase in employment density into the future, and property investors who buy into the precinct now will share in those benefits as time goes on and demand for space increases.
"These properties are right by the busy Patiki Rd intersection and the motorway on-ramp for State Highway 16.
"For vehicle access and distribution links there couldn't be a better location."
Catley says the Waterview and Western Ring Route connections are expected to be completed in 2017, when Rosebank Rd will benefit by being even more connected to the city and the wider region.
Farland says demand in the Rosebank peninsula for industrial properties is expected to remain strong.
"This is the chance for an investor to leverage off the current strong occupier demand and make the most of a shortage of property opportunities in a location that has been identified as a region of significant growth."
He says that although the Rosebank peninsula is primarily a successful industrial hub, there has been a rise in office operations moving into commercial premises in the area, including some international companies.
"This is a well-maintained landholding in a superb location offering a steady and significant income stream to provide stability while opportunities for future redevelopment or refurbishment are planned to achieve maximum growth in value.
"A potent combination of factors will work in the favour of the purchaser or purchasers.
"With almost 13,500sq m of total land area across the site it has the scale and a favourable zoning allowing for a staged development of buildings on the site during a time of high demand and scarcity of stock.
"It also comes at a time when growth locations are king and solid investment opportunities with good income and potential are in high demand."