6 EMERALD ST, EPSOM
SIZE:
Land approx 1596sq m, house approx 291sq m, excluding studio and garage (with office).
PRICE INDICATION:
CV $2.6 million (2011).
INSPECT:
Sat/Sun 1.45-2.15pm, or by appointment.
AUCTION:
October 30 (unless sold prior).
SCHOOL ZONES:
Epsom Normal Primary, Auckland Normal Intermediate, Auckland Grammar, Epsom Girls Grammar.
CONTACT:
Diana Buczkowski and Peter West, Barfoot & Thompson Epsom, 021 408 303 (Diana) or 021 939 222 (Peter).
FEATURES:
*(property comprises house and studio) ** (off-street parking for 8) Striking circa-1906 home with multiple living spaces that retain original Edwardian villa features including ornate pressed metal ceilings and detailed Marseilles tile roof. Category 2 historic place. Big grounds with pool, studio or pool-house and office off the garage.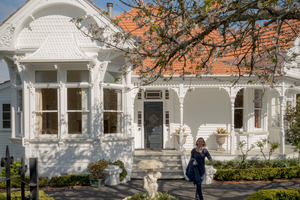 The Mackey family's striking heritage house may come with marvellous character features - but it's also proved to be a great place to raise children.
First-time visitors tend to spend a lot of time looking upwards. The ornate corner-angle bay villa has a highly decorative Marseille tile roof and elaborate pressed metal ceilings.
A Historic Places Trust report on this Category 2 circa-1906 home says it may have been designed by Arthur Ferneyhough, the architect of Epsom's grand Florence Court. It used to be known as Ker House after the man who had it built, Northern Steamship Company accountant John Ker.
For the past 12 years it has been owned by urologist Mike Mackey and his wife, Kirstie, who is a pilates instructor.
Kirstie's a character home fan but felt slightly in awe of this one's grander features when they first moved in with two young children.
"It's actually proved to be a lovely family home because it flows well, while still having its historic aspects," she says.
The couple has three sons, David 13, Jake, 12, and Luke, 8, and the 1596sq m grounds have been brilliant for an active household keen on dogs and mountain-biking.
Mike taught all the boys to ride bikes on the semi-circular driveway, where dual vehicle entrance and exit gates flank a central pedestrian gate. The wide veranda around one front corner of the home is the key to its charm, accented by leadlight front and side doors and fine fretwork around the roof's gable ends.
The couple has updated the home's lighting and installed uplights in the wide, arched hall to showcase the pressed metal ceilings which continue throughout much of the home. Two detailed examples top the front master suite (with walk-in wardrobe and en suite) and the formal lounge opening to the veranda.
Kirstie says: "This house already has a big footprint but feels twice as big because of its high stud."
Off the hall are three more bedrooms and a bathroom. One of these bedrooms opens to a glass-roofed en suite where you can star-gaze from the bath. Gas central heating and four fireplaces warm this home with its polished kauri floors, and new carpet has been laid.
In a rear addition an open-plan dining room opens to a patio. The boys love roasts cooked in the Falcon double range, installed recently when the Mackeys updated the granite-benched kitchen. A second laundry off the patio in addition to the one integrated in the kitchen was handy when the boys were young, Kirstie says.
Like the rest of the family, labradoodle puppy Maisey delights in the big backyard with lawn, playhouse and in-ground trampoline.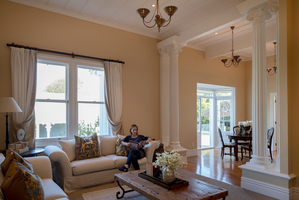 "In summer, we have all the doors open and lots of barbecues and pool parties," says Kirstie. "There's a good amount of space around the house so you're not too close to neighbours. It just feels like you're in your own little world here."
An office backs the double garage and beside the gas-heated pool, there's a studio with a kitchenette, bathroom and mezzanine storage.
The Mackeys spend a lot of time at Cornwall Park and have bought a property which backs directly on to its grounds. "After 12 years here we're moving into a new phase with the boys as they get a bit older so it's just logical to say, 'Let's go and have a new adventure."'