Home-staging firms are kept busy as buyers narrow their searches through websites.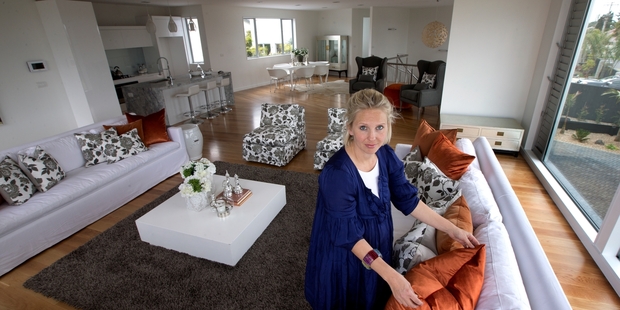 More and more homeowners are paying thousands of dollars to have their houses dressed before putting them on the market.
Real estate agents say most house hunters are making up their minds about a home by trawling through online galleries - attracted by the colourful furniture and fittings - and only go to open homes to confirm what they've already seen.
The service, which can cost upwards of $2000 for a two-bedroom home, can involve completely furnishing empty homes, right down to the ornaments, bed linen and fresh flowers. Or it can see some or all of the existing furniture replaced.
Managing director of Auckland's DMI Homestagers, Dinah Malyon, said when she started her business 17 years ago, no other companies were offering the service.
"You'd go through the Property Press and the houses would all be empty. Now you won't see any empty houses. Everybody uses it because everybody knows that you get more for the property if you furnish it.
"We're always busy. There's a lot more competition in the market now for us but we're still doing two to three houses every day."
The company could have as many as 140 homes staged at any one time, she said.
Ms Malyon last week set up a 560sq m five-bedroom, $1.9 million stucco home on Craig Rd in Milford.
Ms Malyon said real estate agents reported that home-staging could boost sale prices by 10 per cent. One home she worked on on Remuera's Victoria Ave sold for $150,000 more than the agent had predicted. The company had storage facilities for homes that needed their furniture taken out during the marketing process.
She said adding furniture to an empty room could make it seem bigger and help a buyer visualise how their own furniture could fit.
Theresa Fincham of Ultimate Homestaging said they were "absolutely flat tack".
Home-staging could add between $10,000 and $40,000 to the sale price. One home the company had staged on Herald Island in West Auckland went for $88,000 above expectations last week.
West Auckland real estate agent Kath Binning, of Harcourts, believes a paint job and home-staging secured an extra $90,000 in the recent sale of a four-bedroom home on Hogarth Rise in West Harbour which had been trashed by former tenants.
Ms Binning said she'd told the vendor that without the staging, the property probably would have sold for $620,000 "at a push". With staging, he was more likely to get $685,000.
But it sold for $710,000 within the first week. The home dressers had cost $2800.
"I was blown away and so was he," she said. "First impressions count, particularly now that it's internet driven, rather than just open homes.
"If you've got a professional photographer and the photos are good and the furniture's good, then it's going to draw people to the property."
Home-staging service a hit for Block winner
The Block winner Ben Crawford is all for home-staging. The 32-year-old advertising agency owner used staged furniture to sell his Onehunga rental in 2006 - and believes it could have added 10 per cent to the value.
"For me it certainly helped make the home more appealing and sellable as it was a rental and there was no furniture in it."
He had three queen beds set up in the bedrooms to ensure buyers knew they were double rooms, and set up sofas and a dining table and chairs in the living area to show the layout options.
"You'd be surprised how many people can't visualise what will fit in a space," Mr Crawford said.
Mr Crawford won last year's season of The Block with sister Libby because of their well-presented three-bedroom bungalow on Takapuna's Anzac St. The pair started an advertising agency after the show.