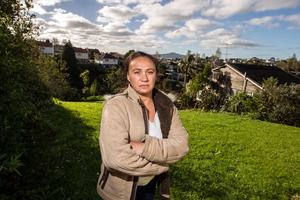 A former Housing New Zealand tenant who claimed to have raised $1 million to buy her home has been ordered to pay back $39,000.
Supermarket worker Bella Lucy Bowden, 52, was investigated by Housing NZ after she said she had finance to buy her state home in the upmarket suburb of Mission Bay.
The land under the modest two-bedroom home, with views out to Rangitoto, was valued at around $1 million.
HNZ said Bowden, who was entitled to a subsidised income-related rent because she said she was living alone, had been living with a partner, Greg McDonald. Bowden and McDonald insist they are cousins and not in a relationship.
McDonald told the Herald on Sunday Bowden has been told to pay $39,000 to Housing New Zealand.
Housing New Zealand confirmed Bowden had been ordered to pay a debt to the Crown.
"This covers the difference to market rent for the period that Ms Bowden's partner Greg McDonald can be shown to have been living with her," said HNZ investigations manager Bernard Hollewand. "It is a recovery of the rent subsidy paid to Ms Bowden."
Bowden also faces three charges of using a document for pecuniary advantage. These relate to income-related rent application forms for 2010, 2011 and 2012.
She has pleaded not guilty to all charges and is due to appear again on October 22.
Hollewand said Bowden would have to pay the money whether or not she was convicted of the charges.