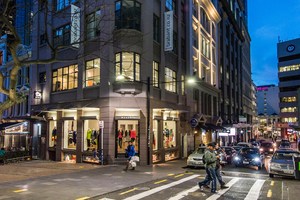 A retail unit which is up for sale on one of Auckland's busiest pedestrian corners, in the heart of the CBD's fashion retail strip, is offering a new owner annual rental growth of 4 per cent.
The 94sq m outlet in the Broker House building at 14 Vulcan Lane, on the corner of Vulcan Lane and High St, is occupied by women's fashion boutique store Moochi.
The unit is for sale as part of Bayleys' Greater Auckland Portfolio through Rachael and Mark Pittaway of Bayleys Auckland and will go for auction on October 23 unless it sells beforehand. The shop, which has been owned by its vendor for more than 20 years, is producing net annual rental income of $151,546, which will continue to grow by 4 per cent per annum for the remaining five years of its current 10-year lease.
"This ground floor retail property is contained within a stunning, refurbished character building that has striking visual appeal and it is strategically located in a pivotal corner position in one of the highest foot traffic locations in Auckland," said Rachael Pittaway.
Moochi has been in occupation for more than 10 years and has a right of renewal for a further 10 years, when its current lease expires in mid-2018. Rachael Pittaway said Moochi had proved a successful women's fashion brand, having started life as a small design workroom in Mt Maunganui. Its first store was opened in the Broker House building and it has since expanded to eight locations in Auckland, Tauranga, Hamilton, Wellington and Christchurch. Its business model is to produce small production runs to keep its in-house fashion offering "fresh and personal".
Mark Pittaway said a particularly attractive feature of the lease was its fixed annual rental increases of 4 per cent. Given that the Reserve Bank has kept the annual inflation rate at between 0-2 per cent as one of its policy targets and with the Consumer Price Index recording an increase of 0.7 per cent in the June 2013 year, rental increases from the unit should outstrip inflation by a comfortable margin, he said.
The Moochi shop is set slightly above street level and is accessed by a short flight of stairs. It comprises a main retail area of 77.8sq m with a 3m stud height, a small lunchroom, kitchen and storage area of 9.6sq m at the rear and a raised mezzanine of 6.3sq m.
Mark Pittaway says natural light enters the shop from large shop front glazing on to Vulcan Lane and High St, which also gives the shop high visibility to passing pedestrians.
Broker House was built in 1925 as an ANZ Bank building. Its basement area has been occupied by The Vault designer gift shop for nearly 20 years. There are six levels above with the majority of the remaining occupants in the reinforced concrete building comprising law firms, solicitors, barristers and other professionals.
Mark Pittaway says the area has been shaped by its prominence as a pedestrian thoroughfare. He says the unit's location attracts a lot of destination shoppers, plus those who pass the building each day to reach the transport hub at Britomart or the ferry building at the bottom of Queen St or who are heading from Queen St to the commercial precinct of Shortland St.