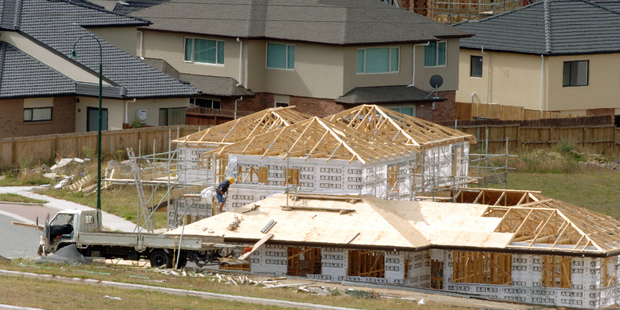 The trend for the number of consents granted for new houses appears to be flattening after two years of growth, Statistics New Zealand said today.
The trend, which excludes apartments, is at its highest level since early 2008. While up 64 per cent from the most recent low point in March 2011, it is still 30 per cent below the peak in September 2003.
Statistics NZ released its monthly building consent stats this morning.
"Following a sustained rise from 2011 to 2013, the trend for new houses seems to have levelled off," industry and labour statistics manager Tehseen Islam said.
"The number of new houses jumped 13 per cent in April, but hasn't changed much since then."
Consents were issued for 1633 new houses and 127 new apartments in August, 55 per cent of the total in Auckland and Canterbury.
The value of consents for all buildings, including both new work and alterations, was just over $1 billion in August - $678 million of residential work and $338 million of non-residential work.
Earthquake-related building consents in Canterbury were valued at $59 million in August and included 58 new houses. Since September 4, 2010, just over $1.2 billion of building consents have been identified as earthquake-related. This includes consents for 1059 new houses and apartments.
ANZ Bank economist Mark Smith said a number of 'demand-side factors' were supporting a prolonged construction sector expansion. "
House building in Auckland was well below levels needed to address pressures on existing capacity let alone meet future needs, while the $40bn Canterbury rebuild represents a large and ongoing call on construction sector resources," said Smith.
"We continue to question whether there is sufficient capacity in the sector to do both, with the Reserve Bank's Annual Report deeming this to be a major challenge facing our economy."
- APNZ