803A WEST COAST RD, ORATIA
SIZE:
Land 3.018ha, house 283sq m.
PRICE INDICATION:
$1.595 million.
INSPECT:
Land and grounds only Sat/Sun 2-2.30pm; house, land and grounds October 5&6 2-2.30pm.
SCHOOL ZONES:
Oratia Primary School, Bruce McLaren Intermediate, Henderson High. (bus to private schools).
CONTACT:
Aaron Drever, REMax, ph 021 939 528.
FEATURES:
Renovated five-bedroom home with multiple indoor and outdoor entertaining spaces. Private, sheltered, north-facing aspect with pond, paddocks, gardens and sleepout.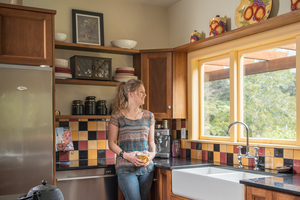 When work brought Leslie from Sydney to Auckland, she was looking to give her children a rural upbringing and wanted the family to enjoy a wholesome lifestyle.
So 16 years ago, she and her then-husband began scouting for properties around Auckland that would suit them and their daughter, aged 4 at the time, and their son, who was a baby.
"When we first came to Auckland we looked at Whitford and out Coatesville/Albany way, and out here," says Leslie, who is originally from the United States. "There was better value out west, the Waitakeres have better scenery and it was only 25 minutes from my work in the city."
When they found this property, they liked that it was sheltered because of its valley setting and had a private, north-facing aspect.
"What attracted us was the land and the garden," says Leslie. "The house had really great bones but we did buy it with the intention of renovating it. About 10 years ago we did a massive renovation and about the only original thing remaining is the laundry."
Leslie says the renovation made more sense of the home's footprint and created flow to the north-facing side of the house, where the different levels are linked by decking that also wraps around the western side.
She says using quality materials and finishes was paramount.
French doors have created better flow as well as bringing in plenty of light.
"I've done a number of renovations over the years and one thing I've learned is if you cut costs, you don't end up with what you want," says Leslie.
A curving driveway brings you down from the ridge and into the sheltered property, which has a pond and paddocks. Leslie has kept a couple of cows for beef and she has also developed vegetable beds to the north of the house.
"Literally, for the last 15 years I have been growing vegetables for the family," says Leslie.
The vegetable beds are beyond the courtyard, with a water feature that is ringed by trees, and adjoins the two-storey home's multi-level decks.
With french doors opening to the decks, the main living area is a double-height space with a gallery walkway overlooking it that connects the upstairs bedroom wings. An open fire warms the lounge, which steps down to the large, country-style kitchen. Like other parts of the house, this has a window seat - in the northwest corner - and is a favourite spot for Leslie and a friend to perch and have a glass of wine and a catch-up.
Adjoining the kitchen is a dining room that opens out to a west-facing deck with pergola. Next to that is a cosy TV room with a heat pump and another window seat in the corner.
Downstairs, a guest bedroom faces out to the garden, and there are three more bedrooms, an office/bedroom and two tiled bathrooms upstairs. The tiled bathroom next to the master has a clawfoot bath.
"This bath was my saviour on a Saturday or Sunday night after I had been working all day out in the garden," says Leslie.
A covered walkway connects the laundry/mudroom at the rear of the house with the garage. To the southeast of the home is a sleepout that looks out over the land.
With one child heading off to university and the other not far off leaving school, Leslie wants to make a new start, possibly moving to Whitianga and building from scratch.