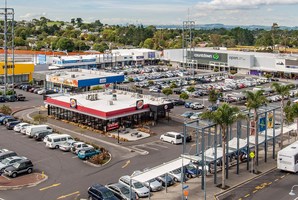 A modern building occupied by a Burger King restaurant in the Westgate Shopping Centre is among a number of retail properties for auction next month as part of Bayleys' latest Greater Auckland portfolio.
The one-level property is leased to the national Burger King chain until 2018 and is producing net annual rental income of $165,000.
It is being marketed by James Chan of Bayleys Auckland and will go under the hammer with a variety of other commercial and industrial properties at the October 23 auction.
"This represents an opportunity to purchase an excellent investment property within a well-established, regional shopping centre in a growth location," says Chan.
"With the best investment stock tightly held in the current market, there are few chances to acquire property with a lease to such a high-profile, sought-after tenant."
Chan says the outlet is on its own 4103sq m title in a high-profile position next to a roundabout on one of the busiest corners of the centre. The restaurant has been at Westgate since it was established in 1998 and has a drive-through as well as parking.
Chan says the 395sq m restaurant at the centre in Massey is much bigger than a typical Burger King restaurant of between 250sq m and 300sq m.
"It is one of the busiest Burger King outlets in the country and the Antares Restaurant Group, which operates the Burger King chain in New Zealand, has renewed its lease early for a further five years from December 2013 at which time a rent review also comes into effect."
Chan says the Westgate Shopping Centre occupies close to 11ha at the end of the Northwestern motorway, giving exceptional exposure to the high volume of motorway users as well as easy access.
Anchor tenants include Countdown, The Warehouse, Farmers, Noel Leeming, Event Cinemas and major banks and there are a wide range of other international, national and local tenants. It has 1450 car parking spaces.
Chan says the shopping centre benefits from the continuing involvement of its developer, New Zealand Retail Property Group Management, which remains the operational manager of the centre, ensuring continuity and providing a significant depth of retail experience for investors who own units within the centre.
Westgate has also been identified as a location for a subregional town centre. Auckland Council has committed in excess of $350 million to the development of the Northwest Strategic Growth Area which incorporates the proposed growth of the Westgate centre into a full mixed-use town at Westgate to service the growing catchments of Auckland's northwest.
"The existing properties within the shopping centre will benefit significantly from becoming part of a larger comprehensive 40ha town centre that will underpin the future of Westgate as a premium retailing and investment location," says Chan.
The centre will also benefit from the nearby Hobsonville Pt redevelopment of the former Hobsonville airbase.