53A TARAWERA TERRACE, ST HELIERS
SIZE:
Land 1259sq m, house 167sq m.
PRICE INDICATION:
Interest expected above the 2001 CV of $870,000.
INSPECT:
Open home: September 21 and 22, 1-2pm. Auction: October 9, 10.30am.
SCHOOL ZONES:
Glendowie College; St Heliers' Primary.
CONTACT:
Chris Patrick, Barfoot & Thompson, ph 021 993 893.
FEATURES:
Classic house designed in 1983 by James Hackshaw; post and beam structure, recent renovations. Clever use of space very workable for a family; beautiful grounds.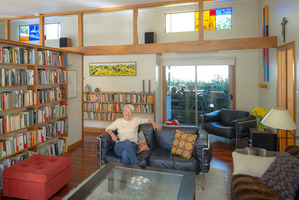 The young architects of the Group Construction Company had mostly gone their own ways by the early 1950s. But one of its founding members, James Hackshaw, went on to design seminal properties - including the Thom house of 1954, and a house for potter Len Castles in 1959.
James went on to specialise in school buildings and churches for the Catholic Diocese of Auckland, sticking to a well-known style of post and beam construction, using wood and unpretentious materials.
In 1983, he and his wife Freddie were ready to downsize from their five-bedroom family home on two thirds of an acre, to something a little more manageable. Freddie knew what to expect from his signature style.
"I've never lived in anything else. From our first house on Tamaki Rd, that he had designed as a one-bedroom home to be added on to," she says.
"I had no reason to have any input. He would do what was the right size, what fitted with the section. I think I possibly asked for the opening [between sitting and dining rooms].
And the bookshelves."
Barrister Freddie had found the land - then a jungle of overgrown cherry trees - subdividing the property so they could build the house at the lower half of the section.
James designed a simple rectangular form. His style was not to veer away from those first ground-breaking Group houses - with raking ceilings that drew in light from high clerestory windows while entirely protecting the house from being overlooked by neighbours.
The simple progression of house from entry, through kitchen and dining room to living room, is balanced and pleasing in a way that is hard to put your finger on.
Cosy niches are "punched" out of the space - a small study looking back over the entrance, a square bay for the sofa with views of the garden - are inviting.
The walls are still perfect for Freddie's art collection (James' design work for emerging artists such as Colin McCahon and Paul Dibble meant the couple had an enviable art collection, now sold).
"I can watch the tui in the bird bath after they've gorged on the kowhai flowers," Freddie points out. "I cleared the backyard, adding the steps and the lawn."
The couple both ran their practices from home. James' studio was a generous space on the lower ground floor, with sliding doors opening to a terrace and the lawns.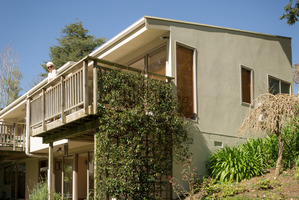 After James died in 1999, Freddie moved her family law office down to this serene space (adding efficient walk-in storage for her many files) and says many an agitated client has found the peace and space of the garden a salve during difficult times.
With a laundry and plenty of space, this would make an ideal teen rumpus room.
Freddie renovated the property in 2007, updating the kitchen with a Smeg cooker and smart benchtops, replacing worn carpets with rich jarrah floors, and tidying up the bathroom.
But the smart footprint of the house - two double bedrooms and family bathroom at one end, master suite at the other, is as timeless and convenient for a family as it is for a couple or someone happy with their own company.
Freddie loves the neighbourhood so much she is moving only a few blocks away to a retirement community, leaving this classic slice of architectural history for the next family.