Here's a rare opportunity to secure an affordable mixed use, main road investment property in a prime location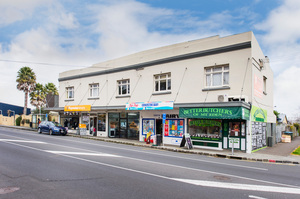 Five older and fully leased shops, in one block, owned long-term by one family in a popular Mt Eden location will be sold individually or together - making them an ideal purchase for first time commercial property investors.
The freehold and three-level individually titled properties at 693-701 Mt Eden Rd have retail on the ground floor, basement storage and two-bedroom residential accommodation above.
Nick Wevers of NAI Harcourts is marketing them for sale by auction on September 18 in conjunction with Garry Bryant and Ranjan Unka.
Wevers says the 1930s character building is in a high profile position on the corner of Mt Eden Rd and Wairiki Rd and the shops were issued with individual titles when the building was completed. The block is just 200m away from Balmoral Rd.
The owner wishes to sell the shops on an individual basis allowing potential purchasers the opportunity to buy one or more. The units, including upstairs accommodations, range in size from around 109 to 120sq m.
Each shop in the Business 1 zoned property has a sizeable rear garden area with individual lots running from 111sq m up to 116sq m giving a total of 569sq m for the entire block.
The retail areas range in size between 46 to 51sq m and are occupied by Better Butchers, Cornerstone Dairy, Angelique Hairdresser, Playmaker Sports and O'Born To Be Worn Ladies Vintage Fashions.
Each of the leases vary in their terms, with net annual rental income of between $15,600 and $20,800. The total for the building is $88,400.
"There has been a lot said about the need to intensify development in Auckland recently because of the lack of available land and down the track there may be opportunity to either redevelop this whole building or to develop the rear of it," Wevers says.
Bryant says the units appear substantially under rented for their size and location, given there is very little vacant space for community businesses in the popular Mt Eden/Balmoral area, with these shops just over a kilometre from the Mt Eden Village.
"The residential accommodation above is all rented by the tenants or their family, except for one of the units and these could be upgraded to increase their value. There is rarely any vacancy in them," he adds.
"This is an excellent entry level opportunity to secure an affordable mixed use, main road investment property in the sought after location of Mt Eden," says Unka.