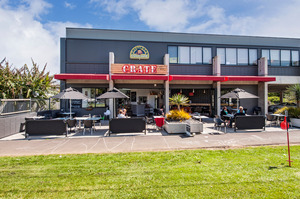 Four modern retail units in St Lukes are for sale in the Sainsbury Retail Centre in Mt Albert, with one of them available to an owner-occupier.
Marketing agent Millie Liang, of Bayleys Auckland, says the centre at 55 Sainsbury Rd is part of the St Lukes Business Park which was completed three years ago.
All units in the centre were leased and subsequently sold on to investors, but three of the shops are now back on the market as fully leased investment properties.
The fourth is vacant and will be leased by the time it is sold or it will be offered with vacant possession if there is interest from owner-occupiers. Liang says there has been significant inquiry from prospective tenants to replace a fish and chip shop that previously occupied this unit.
Units 2, 4, and 5 in Sainsbury Rd, will go under the hammer on September 18 as part of Bayleys' latest Total Property Portfolio.
Unit 1, the largest outlet housing the fully licensed Crate Cafe, is for sale by private treaty.
Liang says the units are for sale individually as strata titled properties but anyone wanting to buy all four can make an offer pre-auction. She says the units are in a popular price range for smaller investors, with annual rentals on the three tenanted offerings $55,000 and under.
Crate Cafe is a popular cafe and restaurant in the centre's elevated prime corner unit of 172sq m, directly below the new Lollipops childcare centre upstairs. The cafe, which has expansive streetscape views over manicured lawns, has a three-year lease from August 2012 producing net annual rental income of $55,000. If all rights of renewal are exercised, this will have a final expiry date of 2021.
About 82sq m of the unit comprises indoor space, while 90sq m is dedicated to outdoor dining. Liang says the cafe is in a prominent corner site position, making it highly visible to traffic passing along Morningside Rd, a major through road between New North Rd and St Lukes Rd and the Westfield Shopping Centre. It also benefits from plenty of free, off-street parking.
St Lukes Roast occupies 83sq m Unit 2 paying net annual rental income of $35,000 from a 10-year lease from July 2012, while Marcel Bakery leases 90sq m Unit 4 on a six-year lease from July 2010 generating net income of $31,400. This is due to increase to $43,000 next January. Vacant Unit 5 is 87sq m.
Liang says the retail complex services the local community, with a variety of convenience shops, plus the Lollipops Childcare Centre upstairs, and is well placed in a fringe city location predominantly comprising young people and families.
"Most people living around this area are under 35 and mostly in full-time employment, according to the latest census statistics.
"There is ample parking at the complex which has several covered spaces directly outside each shop, plus basement parking for customers and staff accessible from the side of the building."