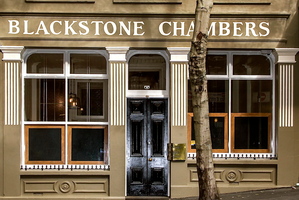 For the first time in well over a century, Blackstone Chambers, a Victorian Auckland CBD building which housed the legal offices of law firm Thorne Thorne White & Clark-Walker for 120 years, is up for sale.
"The two-level brick character building at 14 Wyndham Street is an historical gem as one of the oldest surviving buildings in Central Auckland," says Bruce Whillans, managing director of Ray White Commercial.
He is marketing it for sale by tender closing at 4pm on Thursday August 29 at Ray White Commercial's offices at 41 Shortland St unless it sells beforehand by private treaty.
According to one historical source, the building was constructed in 1882 by Henry Wade for a John Marshall.
However, Auckland City Council archives state that: "Evidence suggests that Blackstone Chambers was present on Wyndham Street from as early as the beginning of the 1870s, possibly making it one of the oldest buildings in the Central Business District.
"Thomas Russell, a dynamic developer and businessman, who was the instigator of much of the economic development in the colony, built Blackstone Chambers with two further buildings on the site at Wyndham Street. The architect of the building is unknown.
"The building was originally the home to Auckland's earliest newspaper, the Evening Star which later became the Auckland Star."
"Carrier pigeons were housed on the roof to bring the news from various parts of the country," says Auckland's walking e-guide.
Blackstone Chambers has dual street frontages to both Wyndham St and Durham Lane. It comprises 286.89 sq m of net lettable area on a 245 sq m site and comes with two secure car parks accessed from Durham Lane.
"Positioned right in the heart of the CBD it could be retained as offices, converted for retail usage or as a residential dwelling or any combination thereof," says Whillans.
The legal roots of Blackstone Chambers date back to the end of the 19th century when it was named after William Blackstone (1723-1780) who published a compendium of the Laws of England.
Lawyer William Thorne, founding partner of Thorne Thorne White & Clark-Walker, originally had a room over a shop on the corner of Vulcan Lane and Queen St and relocated in the late 1890s to Blackstone Chambers in Wyndham St which had become Auckland's "lawyers' precinct". Law firms in the immediate vicinity included: Hesketh Richmond, Buddle Richmond, Rudd Garland & Horrocks, Milne & Meek, Mason Lawrie & Stainton, Stewart Johnson Hough & Campbell, Peake Kirker & Longland and Robinson & Robinson.
The New Zealand Historic Places Trust says Blackstone Chambers is "the sole remainder of the Wyndham Street legal precinct. It has a virtually intact interior dating from the day of its construction."
Until last year the property was occupied by the legal offices of Jim Chamley and his daughter Anne who relocated Thorne Thorne White & Clark-Walker to 268 Manukau Rd in Epsom last year. Chamley says he started work in the building "at 8.30 am sharp" on January 13, 1946, and became a partner of the firm in 1953. He was joined by Anne in September 1990. Chamley still works at least eight hours a day at 85 years of age with no thoughts of stopping ("retirement - what's that?").
Chamley himself is noted for a significant Auckland commercial property legal precedent involving Blackstone Chambers and a concession he gained from a major New Zealand developer.
When Fay Richwhite sought resource consent in the 1980s for his landmark 29 storey bronzed glass building at 151 Queen St, opposite Blackstone Chambers, Chamley objected to the project on the grounds that his law firm's building needed "natural light" which would be blocked out by tower block. Michael Fay visited Chamley to discuss the issue and agreed to alter the plaza level of the building to allow Blackstone Chambers to continue to view the sky and bask in sunlight.
Whillans says the building retains many of its original heritage features.
"It is ready for occupation as it stands and offers incredible scope for refurbishment, reconfiguration or expansion, to create one of the city's most stylish office and/or live and work spaces," he says.
"From the original tongue and groove wood panelling, 19th century glass light wells and soaring stud height, this building is a time capsule waiting for the next chapter in its history to be written."
The Category B heritage listed property with Strategic Management Area 1 comes with vacant possession and comprises a ground floor office area of 153.17 sq m, as well as first floor office of 110.01 sqm and a courtyard of 23.71 sq m.
Under the zoning the building has a designated floor area of 6:1 with a maximum floor area of 13:1 and is eligible to obtain heritage floor space bonus rights.
Whillans says the building design is arranged around a main corridor running its length, featuring distinctive design elements that range from soaring ceilings, embellished with Victorian detailing, through to a central light-well which brings natural daylight to the ground floor.
"The original safe, used by Thorne Thorne White & Clark-Walker, still remains on the ground floor, harking back to a day when banks used to close at 3pm and cash settlements would have to stay in the building overnight," Whillans says.
Native timber flooring features throughout the property, with original tongue and groove wood panelling lining the internal walls.
A hand crafted wooden balustrade graces the staircase, leading to the first floor, where the all-important light spills in from three arched windows overlooking Wyndham Street.
"Many of these original Victorian architectural features could be retained and showcased in any number of reconfigured redesign schemes," says Whillans.
Whillans says the property is only 50 metres from Queen St and has good exposure to passing foot traffic. "Wilson and Tournament public car parks are also at the rear of the property on Durham Street West."
The surrounding street environs comprise a variety of restaurants, convenience retail outlets, cafes, hotel accommodation and office blocks.