4 MARLBOROUGH ST, MT EDEN
SIZE:
Land 690sq m, house 275sq m.
PRICE INDICATION:
Interest is expected above $1.5 million. Auction August 7.
INSPECT:
Sat/Sun 11.15am-12pm.
SCHOOL ZONES:
Mt Eden Normal, Kowhai Intermediate, Mt Albert Grammar.
CONTACT:
Damon Elia & Kirstin Collins, Bayleys, ph Damon 027 247 1577 or 631 1882; Kirstin ph 027 600 2757 or 631 1888.
FEATURES:
*Plus off-street parking. Renovated circa 1910 brick villa with rear living area extension in timber cladding. Master bedroom with dressing room and extra storage room and mezzanine nursery upstairs. Downstairs rear open-plan living, dining and kitchen. Underfloor heating in tiled areas, heat pump.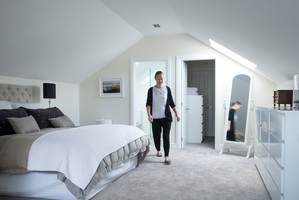 Eighteen months ago, Sarah and Martin Gaskell moved into this home keen to do the right thing by its century-old heritage pedigree.
As Sarah explains it, "We wanted to retain every piece of character that we could."
Little did they know quite how literally they would adhere to their mission statement. From the front of the circa 1910 brick house with its architectural villa details to the volcanic rock retaining wall in the rear garden, they've modernised their home and added another chapter to its story.
Along the way they discovered how deep they had to dig emotionally and physically. They lived on site during rear extensions, shifting into the original front part of the house. Their hall became a makeshift kitchen with a microwave oven as their saviour and a spare door became a temporary dining table.
As they pared back the rear garden, they discovered huge reserves of scoria that is typical of the substrate around these parts.
"We expected it living in Mt Eden but we were surprised at how much came out," says Sarah. Her father, Tom, suggested using the scoria to build a retaining wall and they engaged professionals to build it, using a couple of massive, immoveable rocks as in-situ design features.
In one glance, theirs is a textural split-level backdrop beyond the rear, open-plan living area that was the focus of their efforts indoors.
It was Martin's vision inside that sold Sarah on this home. The solidity of the brick exterior appealed to him. He also knew exactly how to open up the living areas and change the staircase to improve access to little-used rooms above.
"I loved the space when I saw it," Sarah recalls. "He drew out what it could look like and how, if we changed the stairwell, the upstairs would work better and that made a lot more sense."
Their plan has added 20sq m to the original L-shaped configuration to create one large open-plan living area but the logistics of achieving it struck complications.
Within weeks of demolition starting, Sarah found out she was pregnant with Max, who is now almost 6 months old. Their firstborn, Tom, now 2, was just one year old. "The timing wasn't great. It was horrendous, it was cold and it was dusty, but we worked through it."
Upstairs, the room she had earmarked as a study became the perfect nursery, just a few steps from their master bedroom.
Downstairs, they cribbed space from the over-large bathroom for a laundry that opens off the living area. They re-enamelled the original clawfoot bath to stay true to villa style.
Meanwhile, the front rooms, with exquisite architectural trims and details, needed only redecoration. The guest bedroom with the square bay window already had two wardrobes on either side of an original, tiled Victorian fireplace.
At the end of the hall, Sarah's favourite stained glass door from their old kitchen now defines the separation between the original and the reworked part of the house.
Inside and out, they've unified their scheme with thoughtful choices underfoot. In the hall and living area it is oak flooring with a grey wash.
Outside they've extended the grey pebbled drive to a side door off the kitchen so the children and the groceries can be off-loaded easily.
It's practical and it has been exciting. Now, Sarah and Martin are keen to do it again somewhere nearby - scoria or no scoria.