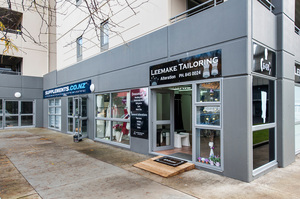 With a lack of available development land, this situation is likely to only be exacerbated in the future.John Davies
A collection of bite-sized investment properties and car parks in Auckland's St Lukes shopping precinct, which are being featured in Colliers International's latest New Zealand Portfolio magazine, are to be sold by auction.
"These units offer accessible opportunities for a range of buyers," says John Davies, of Colliers, who is marketing for sale with colleague Mark Wyness.
The five small retail and commercial units at 1A-1E Wagener Place are scheduled to go under the hammer at 11am on July 23 at Colliers' auction room at 151 Queen St.
Four of the units are all on freehold strata titles and are occupied by retail and office tenants. They are being offered separately as investments, with a fifth vacant unit described as being "suitable for owner occupiers".
Each unit comes with two car parks.
"Commercial properties at St Lukes are very tightly held and with a lack of available development land, this situation is likely to only be exacerbated in the future," says Davies.
He says the tenanted investment units comprise the type of well located, good-quality stock which is in demand.
"Small investment properties with good fundamentals are very popular right now, given the low borrowing rates available and the yields available on commercial property compared with other asset classes."
The units are in the St Lukes Gardens apartment complex, directly opposite a row of large-format retail stores, including Fishing Camping & Outdoors, Dick Smith, Warehouse Stationery and Bedpost in the Wagener Place large-format retail hub.
Wyness says that with very low vacancy rates in the St Lukes precinct, he and Davies expect to receive interest from owner occupiers looking to secure compact, cost-effective retail or office premises. "This is a very desirable area for businesses to be located, as illustrated by the low vacancy levels. In addition, owner occupiers are now re-entering the market in droves, attracted to purchasing property - much like investors - by the low lending rates on offer which make owning their own premises much more accessible."
The units were constructed in 2010 and were designed to offer modern accommodation for small businesses. Two retail tenants: Supplements.co.nz and Leemake Tailoring, occupy 80sq m units with two car parks each. Supplements.co.nz holds a six-year lease, while Leemake Tailoring is on a 10-year lease.
Two office tenants occupy 133sq m units, also with two car parks each, on three-year leases with the right to renew for two further terms of three years each.
Total net rental income from the four tenanted units amounts to $137,440 a year.
The fifth vacant unit is 175sq m in size, with estimated market rental at $55,100 a year.
Sixteen further car parks, which are available for purchase by property owners in the St Lukes Gardens complex, will also be offered on auction day, some with $1 reserve prices. Wyness says development in the area has been gathering pace.
"The number of stores in the large format retail hub off Wagener Place has increased in recent years, resulting in a tight, high demand retail environment.