City fringe office building zoning allows for a wide range of uses, including residential and retail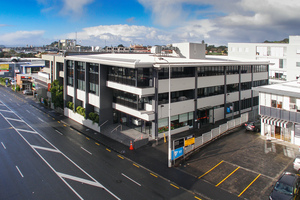 A four-level Grafton building on the Auckland city fringe at 117 Khyber Pass Rd that has served as the headquarters of the New Zealand Lotteries Commission (NZLC) since 2004 is being marketed by international tender.
"This offering represents an opportunity that must be considered by all owner-occupiers and investors," says Cameron Melhuish of Bayleys Auckland who, with colleagues Scott Kirk and Alan Haydock, has a sole agency to market the building for sale by tender closing at 4pm on Wednesday, August 7, unless it sells before the deadline by private treaty.
"The NZLC building is presented to the market fully leased and is generating net annual rental of $699,240 plus GST from the Lotteries Commission which occupies the entire building," Melhuish says.
It is a modern city fringe office building constructed in the late 1980s and consists of around 2750sq m of professional office space set over three levels plus basement carparking. In combination with its large floor plates of over 900sq m, it has an excellent car-parking ratio, with a total of 75 on-site car-parks at a ratio of 1:37.
Of these, 63 are secure basement car parks.
The property is on a sizeable, high-profile, freehold site of about 1875sq m within an underlying and highly favoured Mixed Use zone. Kirk says the zoning allows for future opportunities with a wide range of uses including residential and retail.
"With an allowable floor area ratio [FAR] of 2:1 and a maximum floor area ratio [MFAR] of 4:1, this site is underdeveloped and additional floor area could be added to advantage of a maximum height of 15 metres," he says. "In addition, the availability of strategically located, high-profile holdings of this calibre is decreasing on the open market."
Kirk says that in considering the property, add value investors should investigate alternative uses, such as ground floor retail and also the potential for the growth of the current rental income. "It is also an attractive proposition for owner occupiers who are seeking a new headquarters and who can capitalise on the benefits of moving to this location."
Haydock says high-profile business activity already predominates along Khyber Pass Rd, which is a main arterial route linking Newmarket to Symonds St and Auckland's CBD.
"The suburb of Grafton is one of Auckland's oldest business areas and is popular because of its central and extremely convenient location."
"There has been increasing activity in this city fringe precinct with the addition of major new commercial and residential buildings, refurbishment of existing buildings and substantial development sites being purchased," Haydock says.
"In short, due to increasing confidence in the area, Grafton has been going through an active period of gentrification and has seen a substantial increase in A-grade commercial premises being constructed and offered to the market.
"The recent acquisition of the 5.2-hectare Lion Brewery site by the Auckland University will further enhance the retail, business and corporate environment along Khyber Pass Rd with redevelopment of this huge site being imminent."
Haydock says Grafton is already a proven commercial location, being underpinned by the presence of the Auckland City Hospital, Medical School and Auckland University, along with having excellent access to all motorway systems.