7B SEYMOUR ST, ST MARYS BAY
SIZE:
Land 400sq m, house 290sq m.
PRICE INDICATION:
Interest above CV of $2.05 million. Auction on site Thursday July 4 at 5pm.
INSPECT:
Sat/Sun 12-12.40pm.
SCHOOL ZONES:
Ponsonby Primary, Ponsonby Intermediate, Western Springs College, Auckland Girls' Grammar.
CONTACT:
Layne Stephens, ph 027 450 5228, or Jan Klee, ph 027 499 5244, Milne and Co, ph 360 6996.
FEATURES:
Two-storey, north-facing home with self-contained downstairs wing. Outdoor entertaining on both levels, underfloor heating, storage in garage and off-street parking.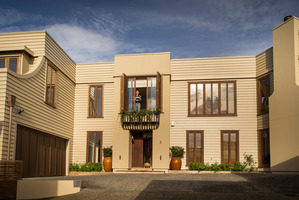 7b Seymour St, St Marys Bay. Photo / Ted Baghurst
Having lived in a Remuera apartment on busy Victoria Ave, Ross and Tricia McKay were looking for a quieter spot when they moved to Herne Bay.
As Ross recalls, they were renting in Sarsfield St and looking to buy a home in the neighbourhood when he came across a site in St Marys Bay's Seymour St proposed for redevelopment while "wandering around one Saturday morning".
Intrigued by the architecturally designed three-townhouse project, Ross took a closer look.
"It had an old house on it with a tower so I clambered up the tower and that gave you a view of the harbour, and I was so taken with the view that I rang the architect and had a look at the plans and we bought it the next day," says Ross.
Tricia says the home "ticked all the boxes" for them. The plans they bought from the architect for the rearmost townhouse on the site already had council approval. Ross adds, "We basically built the house that the architect had designed with the odd modification for Tricia's mum." Those modifications included a kitchenette so the downstairs area was basically self-contained.
Tricia's mother never moved in, but the downstairs has been useful for Tricia's interiors business, with the living area used as a showroom and the bedroom behind it functioning as an office. This wing of the house also has a bathroom, and the living room has bifolds opening to a north-facing courtyard that provides a separate entrance. Tricia planted a camellia hedge along one boundary for winter colour and frangipani on the north-facing perimeter.
Off the lounge, beside the bathroom, is another bedroom with shutters opening out to the hallway.
Tricia says this wing would be ideal for extended family or could be rented, as it has its own entrance and carpark, and can be shut off from the rest of the house.
At the opposite end of the house, left of the main entrance, is Ross's office, or a fourth bedroom, and beyond that access to the garage. Further down the tiled hallway is the laundry, which opens out to a productive vege garden - one of Tricia's must-haves.
"We've also got 10 citrus trees planted down the driveway so for us it's ideal, because we don't have to mow the lawn but we've got Selby Square just down the road," she says.
Tricia says she and Ross basically live on the upper level, which is awash with sun due to its elevation and the fact that the home stretches east-west across the site.
This orientation means there are harbour views from all the living areas and the master suite, which occupies the eastern end of the house and has its own balcony as well as a walk-in wardrobe and tiled en suite with glass shower, free-standing bath and double vanities.
Skylights bring even more light into the open-plan kitchen-dining-living area, which is large enough that Tricia's baby grand piano is almost inconspicuous. Rimu floors and cedar joinery provide warm tones in this large space.
The lounge area, which has a gas fire, opens to a balcony facing due north - an ideal spot from which to watch the coming and goings on the water. Ross, who has done a lot of sailing in his time, can always keep an eye on the super yachts that come in for maintenance.
The house is a bit more than the couple - and their cat - need, so they are looking to downsize from their home of 12 years.