11 SEASCAPE RD, REMUERA
SIZE:
Land 825sq m, house 420sq m.
PRICE INDICATION:
Buyer interest expected mid- $2 millions. Auction July 3.
INSPECT:
Sat/Sun 12-12.30pm.
SCHOOL ZONES:
Meadowbank School, Remuera Intermediate, Selwyn College.
CONTACT:
Gary and Vicki Wallace, Bayleys, ph 0274 988 585 (Gary) or 021 988 585 (Vicki).
FEATURES:
Generously proportioned, gracious home renovated to a design by architect Julian Guthrie. Interconnecting living areas, rumpus room with kitchenette, poolside terrace, plus loggia with sweeping views. Close to Meadowbank shops and school.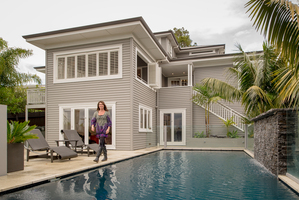 Singed whiskers, burned possessions and a few months added to the schedule were all part of the process for broadcaster and former Commonwealth Games athlete Jayne Kiely and her family during their home renovation nine years ago.
Luckily, Jayne, husband Paul and their sons Tom, now 15 and Jack, 12, were all off site when a subcontractor working outside inadvertently set fire to the house with a blowtorch. Singed Burmese cat Harry was inside the locked house and was so relieved to be rescued, he held on tight to the fireman who broke through newly installed glass sliders to rescue him. "Harry came out just about embedded in the fireman's jacket," recalls Jayne.
The family had been living in the partially completed home while the renovation progressed, but after the fire they had to move out for several months as the blaze resulted in the project becoming much bigger than initially envisaged.
No trace of the fire remains today, save for a photo album of the aftermath and an artwork painted on discarded weatherboards, created by the couple's artist friend, Paul Radford.
The fire made Jayne and Paul rethink the renovation of the bungalow, which they bought in 2002 while living just down the road. They kept as many character features as possible, such as the bevelled-glass front door, but the fire necessitated a fresh approach. After inspecting the roof for damage and seeing the view from there, they briefed architect Julian Guthrie to add a top-storey main bedroom suite that made the most of the vista.
What they had considered all along, and what has worked out well for them, was a future-proofed house design.
"When we put the rumpus room in, friends thought we were crazy because the boys were too small to use it," says Jayne. But the space, built underneath the footprint of the original bungalow, came into its own. The generous room is flanked by a media room, an office alcove, a guest bedroom, a bathroom and a kitchenette, with doors that lead out to a patio and pool. Stairs lead down to an internal-access garage with copious storage.
The home's main level has casual and formal living areas, the kitchen, and Tom and Jack's bedrooms. Jack's bedroom links to a semi en suite main bathroom. Nearby is an impressive laundry, complete with expansive storage, a composite stone benchtop, a fridge and even a TV. "This is my chick cave," jokes Jayne. "The boys have their man cave downstairs."
"This house just soaks up kids," adds Jayne. "We have friends over for dinner and they all bring their children. You often forget how many people are here, then all of a sudden 20 kids appear to eat."
Adults tend to hang out around the waterfall-edge composite stone kitchen island, even though there's a casual seating area nearby, plus a cosy formal living room with an open gas fire and a loggia.
In summer, the light and airy kitchen feels like a pavilion; it has glass sliders that open on to a deck and terraced garden. Tom's amp, drum kit and keyboard are housed in a shed at the back of the garden - a quieter arrangement than when band practice was held in the rumpus room.
Jayne points out how the house's position on the centre of its site has meant two styles of garden have been easily melded. The front of the garden, with pool, palms and subtropical planting, has a resort-like ambience, while the back of the section accommodates a more formal and traditional style of garden, a nod to the age of the original house.
Though this home has been a magnet for social occasions and has accommodated the family beautifully for more than a decade, Jayne and Paul now have their sights set on their next project.