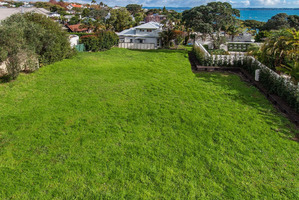 A vacant section on New Zealand's most expensive residential street is expected to sell for millions.
Any home built on the 900sq m piece of land at 10a Cremorne St in Herne Bay will have sea views and be surrounded by multi-million dollar houses.
Past and present neighbours have included Heart of the City chief executive Alex Swney, Les Mills chief executive Phillip Mills, T&T childrenswear founder Theo Johannink, former clothing label Line 7 owner Ross Munro, rich lister Adrian Burr - one of the main players behind the redevelopment of Auckland's Viaduct - and Steve Lockwood, the name behind insurance brokerage Crombie Lockwood.
With only a handful of houses on the road and with an accessway to Tibb's beach, Cremorne St has become the country's most exclusive street, with an average property price of $5.25 million. The land does not have a valuation as it is being subdivided.
It is part of 10 Cremorne St which has a 377 sq m stucco house on the land and is valued at $3.6 million.
The owner recently also bought the neighbouring vacant section at 33 Argyle St, which has a valuation of $3.3 million, and it is understood he will knock down the house before building a new one for him and his family and splitting the section to create the new 10a address.
It will be sold fully landscaped with a driveway.
Unlimited Potential real estate agent Edward Pack said it was hard to find a vacant section in the suburb.
"It is a very rare opportunity as you can imagine in Herne Bay ..."
The Cremorne section is selling by tender with applications closing on June 27.