Bronwyn Sell finds Christchurch was the logical place to set the latest series of the popular home renovation series.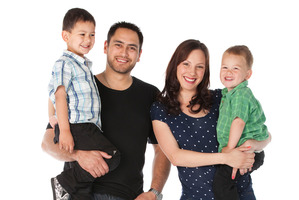 When the producers of Mitre 10 Dream Home set out to find six worthy families to compete for the chance to renovate and win a house, they had almost an entire city to choose from.
With 150,000 homes damaged in Christchurch in the 2010 and 2011 earthquakes, and a painfully tight rental market, the city was the obvious place to base the show.
TVNZ spokesman Andrew Shaw said the earthquakes motivated the network to bring back the show for its 11th season, after a three-year hiatus, with new host Simon Barnett.
"Dream Home has always been a show about heart and family," he says.
"We believe the new series will resonate with audiences throughout New Zealand and tell a positive story about the people of Canterbury. It's about moving on."
After an open call for applications, the producers whittled down the applicants to six families.
When the series premieres at 7.30pm on TV2 on July 2, four families will be eliminated, leaving two to rebuild do-ups with the help of professionals, then compete to win them.
Here's your sneak preview of the six families who are in with a chance of winning a dream home.
The Clarkson / McManus family
Firefighter Manu Clarkson spent the day of the big 2011 earthquake pulling survivors out of Christchurch's CTV building while his partner Danielle McManus waited at home with their young children.
"When I was watching the images of the various sites I thought he may become a victim and the kids would be without their dad, but I couldn't stop him going," says Danielle. "That's just how he is as a person - he risked his life for complete strangers."
Manu spent the month that followed recovering bodies, checking buildings and clearing liquefaction in the red zone. He says his experiences made him more positive and family-focused.
"What I had to deal with that day will stay fresh in my mind for as long as I live. It was so rewarding when we found survivors and we were able to pull them out and get them back to their families. But, equally, it was heartbreaking and disappointing for us to come across deceased people. It has shown me what is most important in life and to make the most of your time on earth."
That included signing up for Dream Home for a chance to create a secure future for their three young children.
"Since the earthquakes our family has become even closer," says Danielle, "and Manu and I would love to do this for our kids. Our dream home would be eco-friendly, beautifully designed and big enough to kick a ball around, with areas to entertain guests with a good old-fashioned Kiwi barbecue."
The Fail / Blair family
Jay Blair and Amanda Fail could have left Christchurch after the earthquakes but they were concerned about the message that would send to Amanda's three children.
"We don't want to teach the kids that you run away from your fears and run away from life when it gets tough," says Jay. "We're a family who believes in toughing it out, basically."
Staying certainly wasn't an easy option as the competition for rental properties was intense. Jay says they're lucky to have found a solid, warm house to rent. Once, she turned up to apply for a rental property within an hour of it being advertised to find five couples already waiting. She has heard of property agents cancelling open homes when 200 people have turned up.
"I'm not cracking you - it's savage out there. It's ridiculous. I think everybody in the Canterbury rental market could tell you a story or two."
She and Amanda applied for Dream Home for the chance to own their own house and secure a future in Canterbury for their family.
"At the moment, we're doing the best we can with what we've got. We're doing what we can to save to buy a house, but it's not easy, with rent being so high and the cost of petrol and every other demand of living in New Zealand," says Jay.
"With or without Dream Home, Amanda and I both wish to own a house together. It's the Kiwi dream, isn't it - to provide for the kids, and us as well?"
The Vercoe family
When the 2010 earthquake struck, a pregnant Crystal Vercoe stood in a door frame in her rented Christchurch home, clinging to her toddler as the brick house literally fell down around her.
"It just happened so quickly I couldn't get outside. It was very scary."
It was obvious the house was a goner - it had twisted on its foundations and one side had collapsed. Crystal parked her son Kyan on the front lawn in his car seat while she dashed back into the house between aftershocks to retrieve essential items.
The house was red-stickered almost immediately and Crystal, her husband Damian and their son had to move in with friends. She says they were fortunate the house was written off so quickly because it meant they could secure another home before the rush on rentals began.
"If we had to move now it would be a whole different story because rents are horrendous."
However, the experience solidified the couple's desire to own their own home, especially now they have a second child, 1-year-old Cadence.
A friend in Crystal's mother's group discovered the Dream Home series was coming to Christchurch and urged her to apply. Crystal didn't need much convincing.
"It would be much better to have our own house, because we wouldn't be on the whim of the landlord about how long we can live there. We'd like to have more stability for the kids, and it would make life that little bit easier."
The Giles family
With four foster children and two biological children, Sarah and Martyn Giles have made it their life's mission to provide a stable, permanent home for kids in need.
Unfortunately, though the household is a happy one, their house is anything but stable. It dropped in three places in the 2010 earthquakes, which also rendered the fireplaces useless, left the roof leaking, and effectively carved their eldest son's room away from the rest of the house.
The couple bought the old villa only a few months before the first big Canterbury earthquake and had plans to do it up to accommodate their family. After the quakes, they discovered to their horror it was under-insured, leaving them with a six-figure shortfall on the repair costs.
"The house is safe to live in but it's basically a write-off and we don't have the money to fix it," says Sarah.
"We were really stuck - in a bad situation financially. At this stage of life, we should be getting on top of our mortgage, and we feel we've taken about 50 steps backwards. And then Dream Home came along and gave us a little bit of hope."
They regret that, at present, they're unable to give their foster children a better living situation.
"When you take on fostering, you want to give these children the best," says Sarah. "That's what inspired us to apply. It's kind of hard, because we're getting the kids' hopes up and it might not happen for us, but we thought we might as well give it a go and see what happens."
The Wilson family
Post-earthquakes, Riki and Whitney Wilson were left homeless, with a baby and toddler to care for.
The house they'd been renting in Christchurch wasn't damaged but their landlord put up the rent from $380 to $480 a week.
"I told him we couldn't afford it and he said he'd wait until our lease ran out, and then we could move out," says Riki.
"After the earthquakes, it was pretty much impossible to find another house to rent. We started looking for two-bedroom houses, where we could have the boys bunking together, but we were still looking at paying $380 a week with no backyard, no garage."
They ended up with no choice but to move in with Riki's parents.
"That was quite hard with the two kids," he says. "It was a real motivational push to start saving up to buy our own home."
One evening, his mother saw an ad for Dream Home on TV and suggested he and Whitney apply. "It wasn't just a slight hint," he says, wryly. "It was apply, or else."
Since their initial application last year, Riki has landed a better-paid job as a broadband installer and they're back in a rented house and paying off their debts. But the goal is to eventually own their own home.
Riki says he would love the chance to build a house from scratch under the supervision of the Dream Home team - "getting your hands in there and getting in amongst it".
"Even just getting our foot in the door would be great. To get all that assistance would be wicked."
The Murphy family
Casey Murphy applied for Dream Home because it beat sitting around waiting for the demolition crews to roll up her driveway.
The rented two-bedroom home she shares with husband Jarrad, their two preschoolers and the family dog is one of many houses in Christchurch that is marked for tearing down, with a big crack through its substrate.
"We're playing a waiting game. It's not unsafe - we've just got the usual cracks and warped windows and doors, and it's a bit cold and draughty," says Casey. "It's just not worth fixing. We're trying to save for our first home, but it's hard."
Adds Jarrad: "We're on borrowed time. We're just waiting for EQC to tell us we need to get out. We could get the phone call tomorrow."
Even so, he says they're lucky to have the home. "It is what it is, and we're better off than a lot of other people out there."
One consolation is that the rent is relatively cheap - in recognition of the state of the house - but the couple are not looking forward to joining the swollen ranks of rental property hunters. They're hoping that Dream Home will mean it doesn't come to that.
"If we get through, we'll have to work our butts off so that doesn't happen," says Jarrad. "We'll just have to see how we go."
Looking back
So far there have been 10 series of Mitre 10 Dream Home, in which we watched 20 couples battle through renovations for the future of their families. In the most recent series, set in Greymouth in 2009, the yellow team of Mike and Te Ana Bromley won ahead of the blue team of Dave Delore and Rachel Bowes. In 2008, the series was set in Hawera, and the yellow team of Quintien and Misty Calder won ahead of the blue team of Nikki Burnside and David Croy. In 2007, the Whakatane-set series saw the blue team of Kapi Tupe and Helen Tulloch-Tupe win ahead of the yellow team of Patrick (Paddy) Wana and Neisha Boyd. Of these six couples, only Paddy and Neisha are still in the house they renovated, which they say they still love and still enjoy touching up and adding bits and pieces to. They now have three children, aged 13, 10 and 2.
* The new series of Mitre 10 Dream Home premieres on Tuesday, July 2, at 7.30pm on TV2.