4/27 WARNOCK ST, GREY LYNN
SIZE:
Land 1/6th share of 1093sq m, house (approx) 150sq m.
PRICE INDICATION:
Interest expected above CV of $680,000. Auction July 7.
INSPECT:
Sat/Sun 1-1.45pm and Wed 5-6pm.
SCHOOL ZONES:
Westmere School, Ponsonby Intermediate, Western Springs College.
CONTACT:
Angela Olsen and Anna Scarborough, Harcourts, Angela ph 027 212 5343 or Anna ph 021 042 3243.
FEATURES:
Three-storey stand-alone designer 1990s townhouse built of concrete, timber and plywood. Internal-access garaging and laundry up to living areas, bedroom/bathroom and the top floor open plan-second living area. Potential to alter to create two or three bedrooms. Kitchen with island bench, built-in ironing board, intercom.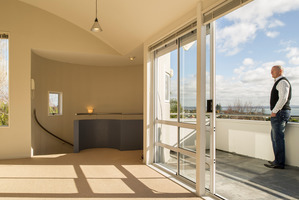 Neighbourhood connections have always been important to New Zealand-born, London-based urban designer and architect Amanda Reynolds, and nowhere is this more evident than in this townhouse that was once her home.
That this townhouse is just two minutes' walk down the road from the Richmond Rd cafes and shops is by the by.
But down here, there's a whole different vibe going on, all because Amanda chose to site the three townhouses on the eastern and southern boundaries, with open space in the middle.
"I wanted to achieve that sense of place as you come down the driveway, where the front doors have a relationship with each other, rather than looking down a linear driveway. That doesn't give anybody anything much at all," she explains. "This is quite a different place with views and a relationship with the neighbours."
Back in 1990/1991 Amanda realised her vision, moving into this three-storey townhouse that she describes as "a circular form that winds up through a cube".
It won her a 1991 New Zealand Institute of Architects' Award and earned her design magazine kudos, too, for the form, shapes and punches of colour that defined her style.
Her curved stairwell reflects her love of the fluid beauty of Parisian apartment staircases.
"I love the stairs and the way they move up through the house with a real sense of ease. They kept me fit, too."
Kevin Ross, a customs broker, remembers his first trip up these stairs 10 years ago. "I could hardly contain myself when I saw the views of the sea from the living area and it just got better and better the further up I went."
The house is still original, although Kevin has painted out much of Amanda's vibrant tones in the stairwell, cooling it down alongside the white walls in the first-floor living areas, the mid-level bedroom and the upper second living area/office.
The kitchen/living area has the original polished concrete floor and the low-slung wood burner with a flue that heats the upper levels during winter. Other eye-catching features include Amanda's folded stainless steel wall-mounted kitchen shelves and her two orange and yellow wall-mounted lights. Kevin's touch is his island bench on castor wheels that he moves to the edge of the deck for year-round entertaining.
On one side, the deck is framed by a shade sail that was Amanda's reference to a windmill in her concept.
On the other side, the mature trees of landscape architect Trudy Crerar's Zen entry garden behind a curved stainless steel screen complete this urban/harbour outlook.
During his happy years here, Kevin gathered a few thoughts on how to make this place even better, including turning the large bedroom into two separate bedrooms accessible via a door replacing the hall linen cupboard.
In response, Amanda suggests extending the bathroom and building a dressing room for just the one bedroom.
It's a reflective thought fresh from the eye of the architect, whose London practice, AR-Urbanism, is about designing the likes of 400-home neighbourhoods complete with traffic movement and pedestrian flow - all elements she has brought together on this pocket-sized city site.