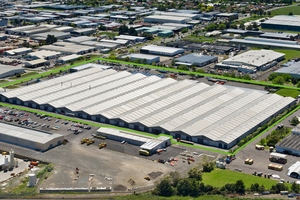 Jones Lang LaSalle says it has brokered one of the largest industrial leases of the year in terms of the area leased, which is worth around $1.2 million annually.
PK Furniture has taken just under 18,000sq m of vacant low-stud space at the Enterprise Park which at more than 60,000sq m is one of the largest single warehouse structures in the country.
Formerly the Wiri Woolstore, the property has been reconfigured into a multi-unit facility under Goodman management.
The vacancy at Enterprise Park was created because of Mainstream relocating to a new design build structure at Goodman's Savill Link Industrial Estate in Otahuhu.
The PK Furniture leasing deal was executed by Ben Pilley and Paul Steele of Jones Lang LaSalle's industrial team and comprises 17,922sq m made up of warehousing of 13,678sq m, 500sq m of office space, 952sq m of canopy and 2792sq m of yard.
The lease is for 10 years with annual rental growth at 3 per cent throughout the term of the lease.
"This lease will see vacancy in the area fall to levels not seen since 2007," Pilley says.
"Jones Lang LaSalle had previously completed a leasing deal with the same tenants 18 months ago. Growth of the tenant and a desire to achieve economies of scale has led to the need for accumulating multiple sites into one."
Jarrod MacGregor, portfolio manager at Goodman says the takeup at sites such as this in Enterprise Park - "one of the largest multi-tenanted properties in the Auckland industrial market" - are a good barometer for the industrial market overall.
Jones Lang LaSalle Research shows that the vacancy rate for industrial has fallen from a peak of 8.5 per cent in 2008 to 5 per cent.
"This level of vacancy has historically been the tipping point of new development in the industrial market meaning we are now at a stage where occupiers are feeling the pressure of an ever-decreasing amount of available stock," Pilley says.
"This low level of vacancy will reduce options for tenants and increase pressure on rents over the medium term." Steele says PK Furniture is a fast-growing, large-format retail operator with a presence across New Zealand.
"As the tenant's business has grown they have acquired additional sites to support their retailing activity. This recent transaction will now see their three sites amalgamated into one."
MacGregor says Enterprise Park offers a good central warehousing option for a tenant in a sector that is always looking for cost savings on transport and logistics. "The property is close to the airport, near land-based transport links and has excellent roll-on, roll-off access."
Steele says Jones Lang LaSalle expects to see more of these consolidation deals in the next stage of the market cycle as tenants prepare themselves for recovery and growth.
"However, there is a shortage of large available sites meaning that where tenants cannot find suitable options this will likely to lead to greenfield and brownfield new-build sites."