210 MCNICOL RD, CLEVEDON
SIZE:
Land 5.11ha, house (approx.) 460sq m.
PRICE INDICATION:
Inquiries are invited above $1.9 million.
INSPECT:
Viewing by appointment.
SCHOOL ZONES:
Clevedon Primary, Clevedon Intermediate, Howick College.
CONTACT:
Denise Jenner, ph 027 255 5011 or Andrew Ferguson, ph 027 481 8266, Bayleys.
FEATURES:
Four-bedroom, double-storey renovated home with multiple living areas indoor and out, two fireplaces, farmhouse- style kitchen, separate bespoke wine bar, internal-access garaging. Separate board- and-batten studio dwelling rented as a home office, with toilet, shower and kitchenette. Set in grounds with sprawling lawns, two lakes and a jetty. American-style barn, equestrian stables and arena.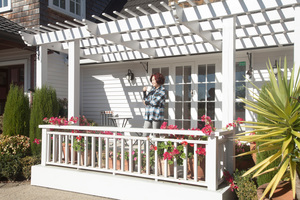 No country lifestyle is complete without cows, a pet sheep, a few chickens and a family dog and all of that and more is what completes Sherry and Alan Peace's dream in rural Clevedon.
By day, they're surrounded by their pets in a home that they've put their own stamp on.
At the day's end, they like nothing more than walking down to the bench seat by their jetty and watching the ducks and the swans gliding across the ponds. "When we sit down here it is so beautiful and quiet. We feel as if we are living in a picture," says Sherry.
This entire scene is her heaven on Earth, a dream that has brought together her childhood memories of rural Taiwan and her love of New Zealand life on a lifestyle block that is less than five minutes from Clevedon village.
In Taiwan, Sherry's family lived on a much smaller 2000sq m block of land on which her father planted fruit trees and kept a few chickens.
Here on this property , which includes a separate rented studio, Sherry and Alan enjoy fruit from their feijoa, fig and citrus trees, vegetables from their raised gardens and fresh eggs by the half dozen each day from their chickens.
Their vege garden is beside the deck off the room the couple call their summer lounge and it is another of their favourite spots. "I really enjoy it that Alan and I can have our coffee out here and sit and look out over the garden," Sherry explains.
Such is her bond with this place that she has had recurrent dreams where her late father, who never got to visit, was in this house. "He was smiling and I know he was very happy to see me in this house."
Alan's own early years in Kihikihi near Te Awamutu are part of the reason why the tranquillity here resonates with him, too. "This land is very special to us both," Sherry explains.
Undeterred by Alan's bout of poor health, they chose to go ahead two years ago with plans to extend their weatherboard/cedar shingle home. "It was my dream," says Sherry. "This was for our lifestyle and we always thought that we'd stay here forever."
They also wanted the exterior form of their home to be easy on the eye, so they made sure the two-storey addition complemented the original part of the house that had undergone renovations some years earlier.
Downstairs, they've create a new front entrance, internal access garaging, a summer lounge/fifth bedroom with an office, a kitchenette and tiled bathroom. Directly above is one of the two master bedrooms/en suites located at each end of the house. Two more bedrooms share one bathroom that is handy also to yet another living area and home office.
For practicality, one set of stairs is located near the central country-style kitchen. The other staircase is situated at the end, near the lounge.
Ground floor living comprises two distinct living and dining areas that open off the central kitchen. The more casual living area, which comes complete with a log burner, has views out across the countryside. The other, with its traditional-style fireplace, opens out to the in-ground pool and gazebo.
The perfect accompaniment to all this spacious conviviality is Sherry and Alan's bespoke bar that is located behind the kitchen. Polished from its granite benches to the gated wine storage and the glasses in their racks, it is their pride and joy.
Of their efforts and their rewards in creating this home, Sherry says "This is much better than a dream. It is real."
Sadly for them both, what is also very real is their need to relocate for health reasons and they have chosen to do so in Taiwan, a place that is dear to them both.