New survey provides benchmark for tracking markets and performance.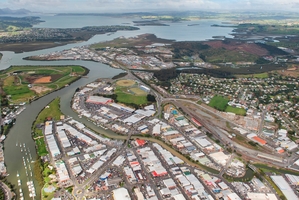 Bayleys Research, in association with Bayleys Northland, has revealed the result of its first vacancy survey of the Whangarei office, retail and light industrial markets which will be updated annually.
The introduction to the research documents states that the inaugural results from the survey have established very important benchmarks for the future tracking of the Whangarei Central Business District and fringe markets.
"Vacancy surveys for office, retail and industrial property provide invaluable information about the current condition of the markets and about future property performance," says Gerald Rundle, manager of Bayleys Research.
The Whangarei office survey reveals that government and health agencies are the dominant users of space in the Whangarei office market, with government occupying 28 per cent of the office space and health almost 14 per cent. "This is an important consideration for investors in Whangarei property where, like centres throughout New Zealand, the Christchurch earthquake has increased tenant awareness of the importance of the structural soundness, particularly government and corporate tenant," says Rundle.
"The Whangarei market is very much in line with the national scene which has established that a rating around 67 per cent of New Building Standard (NBS) is the minimum acceptable standard.
"Whangarei property owners looking to target the dominant government sector or corporates will need to provide premises that meet or, more likely, surpass the 67 per cent NBS threshold."
The survey shows the Whangarei CBD is the most significant office precinct, with over a third of the floor area surveyed captured within its boundaries. It has also recorded the highest vacancy rate at 19.5 per cent. Other precincts with significant floor areas include Bank St North, Walton St East and Railway Ave South, which between them account for over 100,000sq m. These fringe locations have recorded lower vacancy rates than the CBD with Bank St North at 15.2 per cent, Walton St East at 16.2 per cent and Railway Ave South at a very low 1.3 per cent.
The survey reveals the overall vacancy rate for Whangarei's retail property is 9.5 per cent, with significant concentrations of retail property identified in four precincts in and around the CBD. The CBD Precinct, where the vacancy rate is 10.5 per cent, is associated with smaller strip retail outlets. The other three precincts are made up of predominantly bulk retail and showroom type retail outlets and include Walton St West where vacancy is 7.7 per cent, Railway Ave South with 1.2 per cent vacancy and Okara with 10.8 per cent of retail space unoccupied.
"A feature of the Whangarei retail scene has been the progressive fragmentation of the retail locations," Rundle says.
"Initially the relocation of retail was focused around bulk retail establishing itself away from the historic CBD in industrial areas. This now sees CBD retail re-establishing itself as a specialist boutique retail and entertainment precinct within a concentrated area.
"Meanwhile bulk retail outlets have been developed in a number of fringe CBD locations while not necessarily achieving a true shopping destination."
The overall vacancy rate for light industrial property was measured at 10.3 per cent but there were significant variations depending upon location. "The Walton St East Precinct is practically full with only 1.2 per cent of the 23,000 square metres of floor space not occupied," the report states.
"Similarly the Okara Precinct, with over 15,000 square metres has a vacancy of only 4.3 per cent. These results are in stark contrast to the second largest precinct, Railway Ave South, where vacancy is sitting at 20.4 per cent while the Town Basin Precinct recorded an 11.9 per cent vacancy rate.
New development in the industrial sector has been limited over recent years and has predominantly focused on design builds for existing businesses wanting to relocate to alternative premises.
The most recent example of this was the decision of major car dealerships to relocate from the Town Basin area to new premises on Porowini Ave.


Whangarei survey data
Subject: First Whangarei commercial vacancy survey.
Undertaken by: Bayleys Research.
Vacancy rates: Whangarei CBD office 19.5 per cent.
Whangarei retail overall 9.5 per cent.
Light industrial property 10.3 per cent.