State agency's deep pockets knock first-home buyers out of auctions.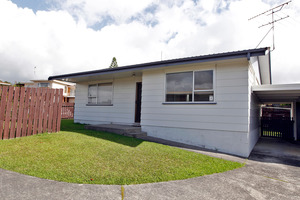 Housing New Zealand has been criticised for outbidding first-home buyers at auctions.
The state housing provider was among four groups of bidders on a two-bedroom property in West Auckland. It is understood Housing New Zealand finally outbid a father who wanted to buy the home to be close to his family.
Others at the Widmore Drive auction were surprised at the level of bidding from a phone bidder which was later revealed.
"It was a nice enough place but the phone bidder - the Housing New Zealand rep - was going up in $10,000 bids while the other bidders were going up in $2000 bids," one man said. "How many working families are missing out because they come along with big pockets and buy at auction?"
The house, with a CV of $270,000 went under the hammer for $380,000.
The man, who asked not to be named, said there were similar houses nearby with lower asking prices than the auctioned house. He said the price had been pushed up unnecessarily.
"All buyers bar one dropped out around $335,000 and then HNZ went from around $365,000 to $380,000 in one bid," the man said.
Housing NZ confirmed it bought the property "to provide much-needed housing for current state house tenants living in houses earmarked for redevelopment".
Sean Bignell of Housing NZ said the housing agency was redeveloping sites around Auckland to build more houses on the land for state, social and private housing.
Bignell said the price paid was within the range advised by an independent valuer, and the department only bought at auction when it had to.
Labour Party spokesman on Housing Phil Twyford said, "It makes no sense for HNZ to be buying houses on the open market when they could be building new ones.
"We have a dire shortage of affordable homes that is locking a whole generation of first-home buyers out of the market."
Twyford said Labour's Kiwibuild policy would build 10,000 starter homes every year for 10 years.