The average price of an Auckland house continues to race ahead of those in other parts of the country — what kind of property could you now gain if you cashed up in Auckland and moved for a more relaxed lifestyle? Rachel Grunwell goes window shopping through the internet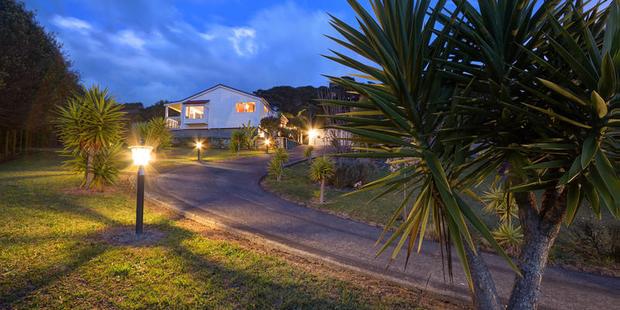 My family lives in Mt Eden where house prices are in the stratosphere due to demand outstripping supply, so I often play with the idea of selling up, doing away with the mortgage, and moving to somewhere like the Bay of Plenty's Papamoa Beach. There, my kids could grow up with their toes in the sand and become lifesavers. Or perhaps we'd move to the paradise of Ruapehu, where the kids could ski after school and catch trout at the weekends - oh what a life that would be.
According to March data analysed by the Real Estate Institute, the median price for a house in Auckland city is now $670,000, up from $570,500 a year ago. I'm sure it's got a lot of Kiwis thinking ... what can you buy with that kind of cash elsewhere in Aotearoa?
Enter Paul McKenzie, the marketing manager for realestate.co.nz, the website that has almost all agents' listings nationwide - roughly 80,000 properties at any one time. He says people would be amazed at what they can get for that amount of money outside Auckland city. While $670,000 might just nab you a two-bedroom unit in popular Westmere, or a three-bedroom dinky townhouse near Cornwall Park, both on small sections, you could use that money to buy an idyllic home and income property in another part of New Zealand that also offers an amazing lifestyle.
We decided to find what was available for $50,000 either side of that $670,000 median.
Here are some examples that popped up to tempt us after just a few clicks at realestate.co.nz
1. Bell Block, about 6km north of New Plymouth, Taranaki
The property: A spectacular modern home that boasts a view of the sea from its wide entertaining deck, a wow kitchen and open-plan living. It's on a 814sq m section and under budget at $635,000.
The lifestyle: About 4000 people live in Bell Block, which has two primary/intermediate schools, Bell Block School (decile 5, roll around 300), and Puketapu (decile 4, roll about 250). Bell Block has shopping, New Plymouth Airport close by, a beach and some stunning walkways. It's a quick drive to New Plymouth, population nearly 70,000, and the alpine attractions of Mt Taranaki/Egmont. Taranaki is known for dairy farming, oil, natural gas and great surfing.
The property: You're buying "a whole lifestyle" here on Jensen Rd in Tauranga, Bay of Plenty, including a home and income, says McKenzie. A tidy three-bedroom house sits on 10ha that includes a kiwifruit orchard and a stand of forest, all for $695,000.
The lifestyle: This lovely rural centre has a tiny country school, Kaimai School (decile 1, years 1-8, roll about 80). Tauranga, with a population of 122,200, is only about 15-minutes' drive away and is one of the country's main port cities and centres for business and horticultural science, plus offers the seaside delights of Mt Maunganui. Rotorua's thermal attractions are an hour's drive in the other direction.
The property: If you'd prefer to live by the sea in the Bay of Plenty, this house at Kokomo Key at Papamoa can be yours for $679,000. It has six bedrooms (space for the rellies to stay), three bathrooms and sits on a generous 650sq m section overlooking a waterway reserve.
The lifestyle: You can walk to Papamoa Beach in the morning or after school or work, and drive a few minues to Mt Maunganui for a spot of shopping, brunch at a beachside cafe, and a soak at those lovely hot salt water pools.
The property: This artistic, modern home is well under budget at $615,000, says McKenzie. Located at Delta Lake Heights, only 15-minutes' drive from Blenheim, it sits majestically on 1.12ha of land, looking across a lake to the Marlborough hills beyond. The low, grey corrugated iron structure of angled walls and large windows of tinted glass conceals surprises, such as a central glass atrium and a courtyard.
The lifestyle: This spot is close to booming wine and gourmet food industries and, with one of the sunniest climates in the country, there are plenty of days in the year to enjoy them. There's a local primary, Renwick School (decile 8, 468 kids), and the property is close to a variety of shops, including a supermarket, baker, butcher, hairdresser, tavern, bar and brewery. It's just 12km out of Blenheim which has a population of 30,500. In the Marlborough Sounds you can swim with dolphins, fish, kayak, water-ski and tramp, or drive south to see whales off the coast from Kaikoura.
The property: For just $635,000 you can get this near-new four-bedroom home with mountain views. It's close to ski fields and would make "a complete lifestyle change", says McKenzie. It's on 4387sq m, much bigger than most sections in Auckland.
The lifestyle: Wanaka is loved for its lake and mountain views, its autumn colours and snow in winter. Close to top skifields, it's a resort town popular with tourists and home to more than 7000 locals, yet has retained a laid-back feel. You can enjoy a number of wineries nearby, as well as restaurants, cafes and festivals through the year. Queenstown is about an hour's drive away.
The property: If your job is tied to Auckland city but you want a lifestyle change, then how about this three-bedroom property on Kaipara Rd, Ardmore. It's just under 30km southeast of Auckland city and sits on 5000sq m of land which includes some native bush and fruit trees. Set at the end of a private lane, the property is big enough to give distance and privacy from the neighbours, and small enough to be manageable if you haven't experienced lifestyle living before. You could keep a few chickens, a lamb or two and enjoy it maybe as a stepping stone to a bigger block.
The lifestyle: This property is in zone for the popular Ardmore Primary School (years 1-8, decile 6, roll 348. It even has agricultural days for the kids). It's close to Ardmore Airport (learn to fly!) and is just minutes from Papakura township, the railway station and motorway on-ramps. This property would allow you to escape Auckland, but have it at hand.