28 COLLINGWOOD ST, FREEMANS BAY
SIZE:
Land 288sq m more or less, house 222sqm (approx).
PRICE INDICATION:
Similar sales in the area have been upwards of $1.5 million. Auction 6.30pm, Thursday, May 9.
INSPECT:
Sunday 1.30-2.30pm.
SCHOOL ZONES:
Freemans Bay Primary, Ponsonby Intermediate, Auckland Girls' Grammar, Western Springs College.
CONTACT:
Kym Aikin, Ray White, ph 021 596 222 or 376 2186; Tricia Lafferty, ph 021 611 205.
FEATURES:
Villa on three levels with four bedrooms and choice of living spaces. Sunny patio with spa pool. Double garage with internal access; handy to Ponsonby and waterfront.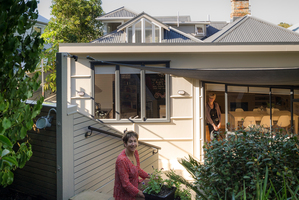 Deb Lawson and Cheryle Dyson always had a yearning to live in Ponsonby. They love the area's diversity but they were also after a home with atmosphere, specifically somewhere sunny with a garden or terrace as they are outdoorsy people.
"A house has got to have the right feeling," says Deb. "And this ticked the boxes. We wanted to live in Ponsonby, to have outdoor space and be north-facing. And the flow was great.
"I think Freemans Bay is the best," says Cheryle, "and the diversity of Ponsonby suits us."
They can walk to Ponsonby Rd, the waterfront, Newmarket even. "Our favourite walk is along K Rd and down to the waterfront and then back to Collingwood," says Cheryle.
They bought the 1910 villa about two years ago, moving from Epsom. At the time they still had two teenagers living with them and they appreciated how multilevel living afforded everyone their own space.
A few improvements were called for: an internal-access double garage was built where there had been only a concrete parking pad, and one of the two bedrooms on the "bottom level" was extended to add space and bring in more light.
Also, space was dug out by hand to accommodate a bathroom on this level, yielding a couple of "finds". One was a wrought iron cot they have sandblasted and restored, another was an old bike.
Cheryle says her sister, Gayle, an interior designer, helped choose colours and furniture. One of Deb's paintings brightens a wall in the family room, and both Deb and Cheryle enjoy restoring furniture, with some bedroom pieces testament to their skill.
They call the three levels the "bottom level" (coming in from the garage), the "entrance level" (off the veranda) and the "top level".
On the "entrance level" are the front room, another bedroom and bathroom and the main living area, with the family room, kitchen and dining with ranch sliders opening to the patio.
Deb and Cheryle use this outdoor space a lot, especially when entertaining.
"The biggest feature is that it is private and sunny; and having the spa pool. It's fabulous," says Cheryle. "We had a swimming pool at the last place and I think I used it only once in the three years we were there. But the spa pool we flick on every weekend."
The kitchen received a paint makeover, with the benches and cabinets painted in Resene Merino and one wall now a blackboard which Deb regularly updates with a thought-provoking phrase and some artwork.
"When we moved in, the living area was all orange woodwork and terracotta walls," says Cheryle. "We started by putting in the stainless steel kickboards but we still needed to paint the cabinets."
Up the stairs, the "top level" is dedicated to the main bedroom, en suite and study. This level has interesting angles, thanks to the roof shape, which Deb and Cheryle say presented some challenges. So, again, they called on Gayle, who came up with the elegant colour scheme and clever details such as the pelmet covering the angles at the top of the blinds. They also pushed out some wardrobe space to add the en suite.
Now they are selling to downsize as their last teenager still at home is planning to move out.
"Ali's going flatting and we thought this was the right year to do it. We love the area but we don't need the size," says Cheryle.
"It's a step towards the campervan and the holidays," she adds,"but we're not quite ready for the lock and leave.
"We will definitely buy again in Ponsonby but we'll downsize."
They think their home has wide appeal, from families through to extended situations with either older parents or teenagers who would appreciate the separate living areas, or even professionals who love having spare rooms for visitors.