4 ANGLESEA ST, FREEMANS BAY
SIZE:
Land 424sq m, house 198sq m.
PRICE INDICATION:
Interest expected above CV of $1.51 million. Auction May 2 (unless sold prior).
INSPECT:
Sat/Sun/Wed 1pm-1.30pm.
SCHOOL ZONES:
Freemans Bay Primary, Ponsonby Intermediate, Auckland Girls' Grammar, Western Springs College.
CONTACT:
Marty Hall, ph 0274 500 168; Heather Lanting, ph 0274 394124, Ray White Ponsonby.
FEATURES:
Anglesea St's 'Turret House' is a Ponsonby landmark. Renovations have enhanced the 1880s villa and its beautiful native timbers and pressed-steel ceilings. Central heating, secure garage plus off-street parking, handy to Ponsonby Rd and motorways.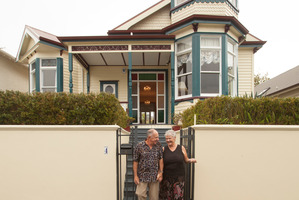 It's easy to find Graham and Dianne Fenn's home in Anglesea St, just off Ponsonby Rd.
Just look for the distinctive turret at Number 4. "When we moved in, friends would ask, 'Is it anywhere near the 'Turret House'," says Graham. "And we'd say, yes that's our home!"
The couple bought in 1995. Graham had spotted the kauri villa for sale in the wide, magnolia-lined street. He loved its street frontage and the age of the home - they have been told it was built in 1889 by a sea captain. "It's just beautiful and I had enough knowledge to know that it was sound," says Graham. "It is in amazing condition for a 120-year-old home."
The home had been a boarding house, run by local character Harold Kurney, a commercial cleaner, who lived there for four decades. "Neighbours have said even in his 80s, Harold would climb a three-tier ladder and paint the roof of the turret every couple of years," says Graham.
Even once he had sold, Harold would pop in during trips to Ponsonby from his new home in Dargaville to talk to Graham.
Having been a boarding house, the house had a sequence of bedrooms and a series of kitchens.
The couple called on good friend, architectural draughtsman Mark Rantin, to help with the renovation plans. They wanted just the one kitchen, all bedrooms to have en suites, in case they decided to run the house as B&B, and to bring in as much natural light as possible.
"We didn't want to destroy the integrity of the building because it is a landmark and has a lot of character. Most of what we did was done in the interior," says Dianne.
Graham especially appreciates Mark's suggestion for full-height French doors and bifolds opening from the north-facing living areas to the deck and patio with Graham's mural of a Mediterranean scene, reminiscent of their travels to Italy and France.
Three rooms have original pressed-steel ceilings and Graham was delighted to find wrought-iron balustrades on the veranda, hidden under fibrolite panels. "I was so excited I stopped a woman walking by on the street to tell her," he says.
When visitors arrive, the area they are most curious to see, naturally, is the turret.
This elevated area is a delightful, sunny spot overlooking the street with views across to the CBD. "I often sit here and read, or do some accounting. It's also a nice spot for a martini and perfect for watching firework displays," says Graham.
Also upstairs is the master bedroom with en suite, walk-in wardrobes and a private balcony.
Coming down the kauri stairway leads to the hallway feeding off to the bedrooms and office. The hallway then opens into the kitchen, with a dining room on the left, opening back to the formal lounge, and a second living area on the right, all with bifolds or French doors to the outside.
The galley-style kitchen with Bosch appliances is one of Dianne's favourite areas. "It is so easy to work in here." These light-filled living areas are great for entertaining when Graham and Dianne host dinner parties or barbecues.
Also, the central location means friends often pop in to go out to dinner with them in Ponsonby; favourite haunts being Japanese restaurant Yuzu and Italian trattoria Pane & Vino.
But now they selling because they want to downsize and live beside the sea.
But they have found some resistance to the sale among their circle of friends.
"A lot of them don't want us to sell because we may not find somewhere we can entertain as well!" says Dianne.