17 MOUNTAIN VIEW RD, WESTERN SPRINGS
SIZE:
Land 607sq m, house 113sq m, plus studio.
PRICE INDICATION:
Feedback is from $900,000 onwards. Auction tomorrow, 10am on site.
INSPECT:
Today 12-12.30pm and tomorrow 9.30-10am.
SCHOOL ZONES:
Kowhai Intermediate, Mt Albert Grammar, Western Springs College.
CONTACT:
Robyn Ellson, ph 021 800 891, or John Wills, ph 021 333 053, Custom Residential.
FEATURES:
Fully renovated family home offering level indoor-outdoor flow to large, sunny and level backyard that also has a self-contained studio and storage shed. Two heat pumps, HRV system and woodburner.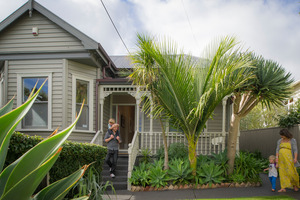 As a freewheeling young couple, Nat and Josh Lancaster had straightforward requirements for house-hunting.
"What we were after was a big villa, and this one had polished floors, and that was just enough to get us excited about it," says Josh of their decision to buy this home seven years ago.
In that time they've "chipped away" at improvements in sympathy with the home's character and on the basis that any changes would please previous owners, an elderly couple called George and Dawn.
"Quite often we would talk about doing things to the house that George and Dawn would approve of," says Nat. Josh adds, "We would do things one at a time and do them properly because we thought we were going to stay here forever."
Josh says that gradual process has allowed them to tailor the bay villa to their needs, especially after the arrival of Lennie, 4, then Archie, 2. A fully fenced property with a keypad-activated gate opening to the street means the boys can run free.
One of the first improvements they made was landscaping and planting the front and back gardens. Josh says, "There was a bunch of big trees here to start with, although they were overgrown, so we pruned them up to let in the light and what we've done is put another generation underneath."
They also restored the front veranda to its original state thereby boosting the home's street appeal.
Inside, the polished kauri floors have been lightened to give the home a crisp, fresh feel. At the front there are bedrooms either side of the hall, with the master having a heat pump, and another bedroom further down the hall.
An open-plan L-shaped lounge, dining and kitchen is warmed by a heat pump and a woodburner and connects with the backyard via bifold doors. The sleek, cream-coloured kitchen has bifolding windows at bench level that create an outdoor bar/servery and are practical in other ways.
"I can be right here at the bench and keep an eye on the boys in the backyard," says Nat.
Off to one side is a beautifully tiled bathroom, something of a labour of love for Josh that meant Nat had to shower at work for quite some time.
Outside the living area, built-in seating is part of a deck that was mainly used for entertaining but now makes a great play area for the kids.
"We used to have what we called 'Sunday fun days' where we would invite everyone around for lunch and that would quite often extend into the evening and lighting the barbie," says Josh.
The deck links with the old washhouse that the couple have converted into a studio where Josh paints in the evenings. As well as having a toilet and shower, the studio provides plenty of storage. At the back of the garden, which is private and filled with dappled light, is another storage shed. Josh says he has been told that George had decided to build a hot rod and built the shed around it as shelter for the project.
With a third child on the way - another boy - the couple are moving to Stanley Bay, close to a park, the beach and the local school for the next phase of their lives.
"I really didn't want to sell to begin with," says Nat, "because it's been such a big part of our lives and I've been here with the kids all the time and I've loved it so much."