4 GLEN RD, DEVONPORT
SIZE:
Land 1012sq m, house 310sq m (approx).
PRICE INDICATION:
Buyers $1.6 million and above should view. Auction April 24.
INSPECT:
Sat/Sun 2-2.45pm.
SCHOOL ZONES:
Stanley Bay School, Belmont Intermediate, Takapuna Grammar.
CONTACT:
Lynda Betts and Larry Banks, Bayleys Devonport, ph 021 278 3024 (Lynda) or 021 444 124 (Larry).
FEATURES:
Spacious Swiss-influenced circa- 1900 character home combining original features with modern living; flowing out to big grounds.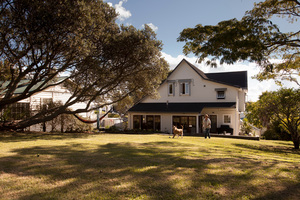 When Switzerland excelled in yodelling and industrialisation circa 1900, some fellow is believed to have drawn on his European travels to create this Swiss-influenced Devonport home.
Tina Robinson, owner here with husband Mark, says, "When I first saw this house I loved its big section but most of all I was struck by its unique character. It's not a villa, which in itself is unusual for Devonport. We were told that it was built by a chap who had either lived or travelled widely in Europe and really liked the Swiss style of architecture."
The three-storey home has a commanding presence, standing tall on 1012sq m of grounds, with roomy front and back yards. Its ship-lap exterior weatherboards and polished floors are kauri. Tina sees Swiss influence in its very steep roof pitch - ideal for shedding snow - and understands window-boxes were used to amplify its flavour.
When the family came here 15 years ago, the couple's now-adult children adored the big grounds.
The previous owners lived here for 56 years. The Robinsons weren't daunted that the home required attention and their fairly major renovation introduced modern amenities such as gas heating, while preserving original character. They did some of the dog-work like scrim removal themselves, otherwise hiring professionals.
"I guess we were fortunate that it hadn't been mucked around with a lot. The front veranda had been closed in but other than that it was pretty much in its original state."
There's plentiful off-street parking and they utilised space under the house to install an internal-access double garage. Alongside is Mark's separate "man-cave" workshop and a bedroom opening outdoors.
The front door is mid-floor, up a little flight of stairs. They reinstated the front veranda as an open-air space basking in afternoon sun. "I don't think people always realise just how much space there is in this house," says Tina, explaining visitors usually only see this mid-floor. They created its super-spacious kitchen-dining-living space with wood-burner by melding smaller rooms and extending backwards.
The impressively sized kitchen includes a whopper island, granite benches, two sinks and two ovens. The corner of the living area has bifold doors. "This whole corner opens out and you feel like it's part of outside. It works especially well for parties."
Living flows out to the rear patio, near a lawn big enough to fit a pool. The children, the cats and even Irish terrier Riley have climbed the rear pohutukawa's horizontal boughs. "It comes into full flower on Christmas week so it's our Christmas tree."
The welcoming front living room with ornamental fireplace is slightly more formal. It's a good place to check out original ventilation panels above the windows, operating like two wooden belts sliding over each other. "They still function and are above all the windows. We think they could be another European feature." This level's cavernous laundry became a more compact one, an office and a toilet.
Upstairs enjoys views over Ngataringa Bay and Bayswater Marina. A pretty glass-panelled door announces the family bathroom with clawfoot bath. There's an en suite off the master bedroom plus three other bedrooms, most with picturesquely angled ceilings. "What's especially good about this house is that there are no dark rooms; every room is light and airy."
Tina rates the location's handiness highly, with Stanley Bay School's back gate on their road plus beaches and tennis courts nearby. "I used to work in the city and could walk to the Stanley Bay Ferry in two minutes and be in town not long after." But now their children have left home the couple are "rattling around" in such a spacious home.