Shortage of high-quality city office space.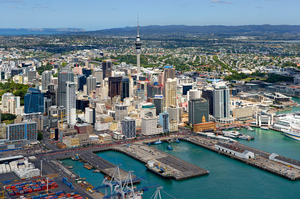 New research by Colliers International indicates the Auckland CBD office market is continuing to move in the landlords' favour, especially for high-quality, well-located buildings.
"While the pace of the shift is still under debate, the results of our 2013 Auckland CBD office survey clearly show a continuation of the trend towards landlords being able to call the shots in leasing deals at the prime end of the sector," says Chris Dibble, Auckland research manager at Colliers International.
"Vacancy in the 'prime' section of the Auckland CBD market, for buildings rated premium and A grade, is now at 7.9 per cent, a level which is below the average of the past two decades," Dibble says.
"The well-publicised shortage of high-quality office space in the Auckland CBD core shows no sign of abating this year, with no major construction projects under way able to alleviate the situation.
"With much of the job growth in the country concentrated in Auckland, whole floors of prime CBD office space are now in very short supply. This has resulted in rents rising and lease incentives diminishing at the prime end of the market."
The Colliers' survey shows overall Auckland CBD vacancy rates fell from 11.3 per cent to 10.6 per cent between the end of 2011 and the end of last year. However, with the secondary vacancy rate having been flat for the past 18 months, the fall in overall vacancy is down to the reduction in availability of prime office space.
Another Colliers' survey, the latest office tenant survey, similarly shows the market moving in favour of landlords. This survey gauges sentiment on market timing, rents, incentives, staffing levels, workspace ratios, workspace designs and more.
"The survey shows interesting discrepancies between landlords' and tenants' reactions to changes in market dynamics," says Dibble. "For example, landlords perceive vacancy rates will decrease much quicker than tenants believe they will."
Sixty-seven per cent of landlords expect the Auckland CBD vacancy rate to decrease over the course of this year, compared with only 16 per cent of tenants.
"Somewhat predictably, however, the results also show Auckland landlords believe face rental rates will increase more quickly than tenants expect them to in 2013," Dibble says.
Fifty-three per cent of landlords expect rents to increase, versus only 38 per cent of tenants. Average prime rents in the Auckland CBD are now at $338/sq m with average secondary rents at $193/sq m.
Prime rents are expected to increase by about 4.5 per cent during the year, Colliers forecasts show. "This is a relatively strong rental increase considering the 34 per cent decline in net effective rents experienced between the end of 2008 and 2011," says Dibble. "Our forecast rental growth is consistent with the levels achieved in 2001 and 2002. We now, with hindsight on our side, look back on this period as the start of the latest upswing in the market."
Throughout the economic downturn, incentives - such as rent-free periods or subsidised interior fit-outs - have been a feature of the office leasing market, especially in secondary-grade buildings.
Colliers' office tenant survey shows the majority of New Zealand tenants expect incentives to increase or remain at current levels this year. But landlords' answers to the same question showed the opposite expectation. "Sixty per cent of Auckland landlords expect incentives to decrease this year, but only 12 per cent of tenants think incentive levels will decline. This shows there is a very wide gulf between landlords' and tenants' expectations of upcoming market conditions."
Two surveys: Auckland office market
Auckland office tenant survey Undertaken by: Colliers
International results:
* Shortage of high-quality office space
* Prime rents expected to increase 4.5 per cent this year.