Real estate tribunal bans Chinese migrant despite earlier backing from former Associate Immigration Minister.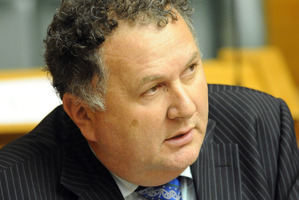 A Chinese migrant convicted over an Auckland kidnapping and $1 million ransom plot was allowed to work here after support from a former Associate Immigration Minister.
But Yang Shi has now been banned from selling real estate after the Real Estate Agents Disciplinary Tribunal rejected her application for a licence because of her involvement in the scheme that went horribly wrong.
Shi - who has studied through Ray White Henderson and had a national real estate certificate - had been trying to create a career selling real estate until details were revealed of her role in the 2004 kidnapping of Chinese student Yang Liu, who was bound, blindfolded and kept in a closet for 48 hours after he went on an internet-arranged blind date when his flatmate couldn't make it.
Ms Shi was being used as bait in the plot with three men, Peng Fei Huang, Bo Xiang Zhang and Bing Cao.
The men were jailed for five to six years and Ms Shi got 18 months' home detention.
Her punishment was lower because of the lesser role she played, the sentencing hearing was told.
Ms Shi disclosed her kidnapping conviction to real estate authorities.
She presented a letter written by Labour MP Shane Jones in 2007 granting a special direction to enable her to have a one-year open work permit, despite her conviction.
Mr Jones said he did not know Ms Shi nor did he remember writing the letter when he was Associate Immigration Minister.
"I would have written hundreds of letters. The bureaucrats approved some and others went to the minister but I don't recall it," he said.
Ms Shi had not initially mentioned the conviction to Ray White Henderson "as I thought it irrelevant", but during her studies she did.
She said she was never held in custody like the other offenders and police were happy for her to continue studying at Auckland University.
"I just needed to go to court to give evidence at court days," she told the tribunal. "It was not fair for me to be guilty of something the other boys have done because I would never kidnap some[one]."
But the Real Estate Agents Disciplinary Tribunal said that explanation contradicted her sentencing where all four kidnappers were found to have acted together, she had shared the intention of detaining an innocent man for ransom and her role in the crime was critical.
Her offending showed significant signs and planning, and the detention involved binding, gagging, the use of a gun and a knife, punching and confinement over two days - in the boot of the victim's car and then in a motel where Mr Liu was for a good deal of time kept in a small cupboard in the bedroom. He was bound, forced to reveal his Pin number and his mother's whereabouts and $700 was taken from him, the tribunal noted.
Ms Shi said she was not "that 20-year-old immature girl from China any more. I want to fight to have a second chance."
The tribunal said she had banked $6000 of $60,000 taken from the victim and the real estate sector should pivot on the highest ethical standards. The registrar was right to decline her application.
Real Estate Institute chief executive Helen O'Sullivan endorsed the decision to bar Ms Shi, saying the Real Estate Agents Act 2008 was passed to raise standards and increase public confidence in the sector.
"People can make mistakes and turn their lives around but maybe not in an industry where you have to have police clearance," she said. "This is about passing the six o'clock news test and this gets a big fail."