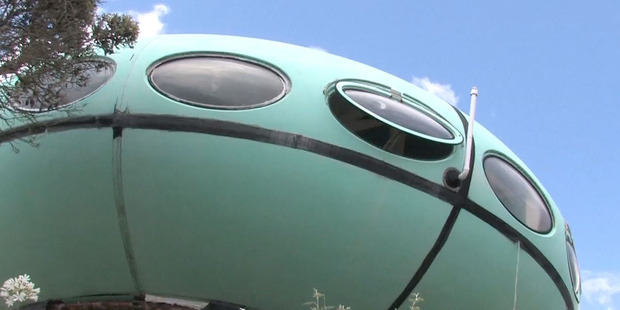 A flying saucer is up for grabs for adventurous Raglan house-buyers - or Hugh Hefner wannabes.
The green, disk-shaped home, complete with a ring of circular windows around the centre, was a one-off, said Ray White agent Julie Hanna.
Its former owner was a retired ship captain who had the spaceship-style house moved to the property from another site as a nod to his past nautical life, and to follow in the footsteps of Playboy founder Hugh Hefner.
"He told us before he died that Hugh Hefner had one of those, so that's why he was determined to own one as well," said Ms Hanna.
Since going on the market last week, it has attracted a lot of interest from New Zealand and overseas buyers, especially those looking for holiday homes.
"It's a one of a kind in Raglan, that's for sure. It's just a wonderful place to stay and holiday in a spaceship.
"The spaceship is original and just needs some tender loving care to bring it back to its former glory," she said.
Buyer feedback so far had valued the property between just under $200,000 and mid $300,000.
The house has an open space with a partitioned bedroom and overlooks the sea. Also on the 1032 sqm Riria Kereopa Memorial Dr property are another unit and a three-car garage.
The property will be auctioned on March 2.
- APNZ