25 GWILLIAM PL, FREEMANS BAY
SIZE:
Land 301sq m, house 150sq m.
PRICE INDICATION:
CV $895,000. Auction February 21 (unless sold prior).
INSPECT:
Sat/Sun 1-1.30 pm.
SCHOOL ZONES:
Freemans Bay Primary, Ponsonby Intermediate, Auckland Girls' Grammar, Western Springs College.
CONTACT:
Angela Saunders, Ray White, ph 021 448 900.
FEATURES:
1970s townhouse designed for central courtyard living, with a striking and sympathetic renovation that offers easy-care living.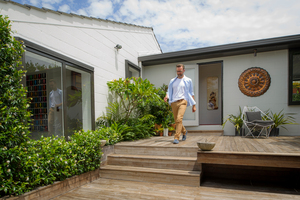 Tony Elwin and Neil Evans call themselves "project boys". So five years ago when they finished their villa renovation, they hunted for another project. They wanted to downsize and walk to their business in the city, so Freemans Bay was the obvious hunting ground.
Their perseverance paid off - they scored a virtually untouched 1970s townhouse at the end of the popular Gwilliam Pl cluster. "It was the architect's own home," says Tony, "and virtually untouched since it was built."
Ten years as a rental property left it a bit worse for wear, but couldn't hide the great structure.
Life in the U-shaped concrete-block house revolves around a central split-level courtyard.
"We love the outdoor living inside the house," says Neil. "We spread out here all summer, it's like another room."
The sweeping timber decking and lush tropical planting create a spot of Bali in the city.
"It was totally unloved, but an amazing microclimate," they say, pointing out the frangipani about to flower. A deciduous bead tree offers cooling shade, and the living room overhang was designed for wet days.
The couple were determined to remain sympathetic to the architecture's vibe. "We stayed contemporary to the time, but with a modern feeling," explains Tony.
They worked with designer Richard Furze to streamline the layout and update the kitchen and bathrooms.
"We kept features like timber panelling and the pitched ceilings following the slope of the site," Tony says, "but crisp black and white paint makes it modern."
Staining oversized cork tiles was another contemporary twist on a 70s favourite.
Retro-styled light fittings were carried home from Sydney trips. The living room's pressed-steel drum lightshades cast mysterious shadows across the cathedral ceiling, while a cluster of glass pendants create drama in the dining room.
Even the black Kent fire looks modern. "We spent a winter here before we renovated and it kept the whole house cosy," says Neil. "We didn't like the new ones, so we reconditioned the original."
Clever tweaking of the original floorplan delivered a sleek galley kitchen and extra media room for Neil's vast collection of music and film.
An atrium was raised to match the living room, with efficient built-in storage slotted into a former window. They installed full-length windows, and French doors opening to a sunny northern courtyard with access to the new garage and laundry.
The kitchen absorbed the former laundry, with its sunny view of the SkyTower. Mosaic splashbacks and stainless-steel countertops are a nod to the 70s, but the meticulous storage befits today's keen cooks. "We wanted an efficient galley," says Neil, "so we specified doors that tuck away into the storage wall while we're working." Black-stained entrance panelling hides the mess,and an eye-level slot gives a view into the living room.
The galley opens into the dining area, where the plunging roofline marks the transition from the living zone, up towards the split-level bedroom wing.
Windows and doors on all three sides of the courtyard create a seamless flow or cosy retreat, depending on Auckland's variable weather.
They transformed formerly dark wet-rooms into a light and bright tiled bathroom and a separate en suite. All three bedrooms overlook a tranquil walled courtyard, with more lush planting and pebbled ground. A gate leads to one of Gwilliam Pl's secret commons.
"You wouldn't know it's Franklin Rd in here. It's like a private park, with gardens, barbecues and a real sense of community," say the pair. They love this home, but are keen for another project.