HeraldHomes real estate editor Penny Lewis takes a look back at some of her favourite homes listed this year.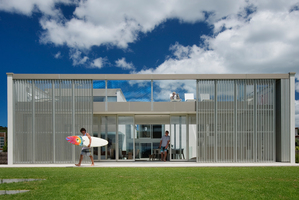 Imagine living metres from one of New Zealand's best beaches and only an hour from Auckland City.
The difficulty would lie in deciding whether to use this modern, luxurious retreat as a holiday hiatus or a permanent home.
The previous owners commissioned architect Andrew Patterson to design their dream home 10 years ago. His brief was to create a city getaway their whole family could enjoy. So it included everything one would find in their permanent home, including a heated swimming pool and great spaces to entertain.
The box-shaped home makes use of open-air spaces with the interiors by using large glass doors which open completely back.
Customised anodised aluminium retractable screens finish off this spacious, open-plan home by stylishly providing privacy, but allowing the light to flow in, maximising the property's northern aspect.
The screens provide privacy and shade when the home is occupied and security when it is not.
The central atrium is the home's focal point of this home.
Each surrounding room - whether it be lounge, bedroom or kitchen - looks out into the swimming pool. Next to the glass-enclosed pool is a staircase which leads to the home's roof deck, the ideal spot for gazing at the waterfront.
Downstairs is dedicated to living areas. The use of terrazzo inside and out provides a seamless transition between indoor and outdoor living.
Immediately inside the front door is a cosy living area with a gas fireplace and generous hearth that is well used by the family in winter.
Off to one side is a powder room with a double sink and tiled walls.
A glazed walkway leads up to the main, beach-facing living room and kitchen. The kitchen, with its handleless American oak cabinetry, stainless steel benchtops and Gaggenau and Asko appliances, could pass for new.
A flat, stainless steel handrail that gently curves to follow the shell-shaped stairwell takes you up to the bedrooms, where a guest room cantilevers over a poolside al fresco dining area. The huge master bedroom has its own staircase to the roof deck. The three remaining bedrooms also overlook the atrium.
45 Taumata Rd, Omaha
Size: Land 1213sq m, house 370sq m, 200sq m decking and internal courtyard.
Price: Sold, buyer did not wish to disclose amount paid.
Features: Outstanding contemporary home designed by architect Andrew Patterson, at the sought-after cove end of Omaha Beach. Generous site with big front lawn. Internal courtyard, heated swimming pool and large upper deck, with superb views over the beach and surf. Only an hour from Auckland City.