If you've ever visited Cape Reinga, the Bay of Islands or even the islands of the Hauraki Gulf, you have a lot to thank Darcy O'Brien for. Anne Gibson meets the quiet public servant who bought large chunks of these precious coastal areas for the public good.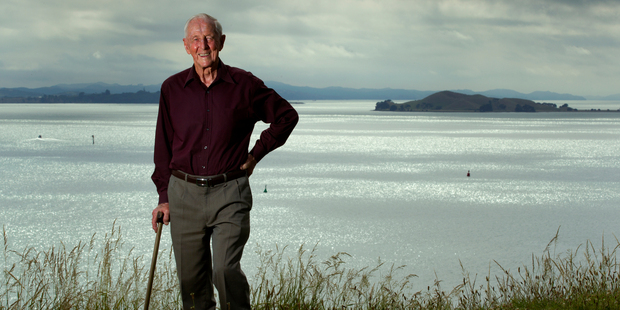 As we head for the beach this summer, thousands of us will visit historic areas, regional parks, islands, the coastlines and reserves of our "winterless north".
For many decades, much of the coast and so many parks and islands around Northland and the Auckland region have been available to camp on, walk around, land on from boats, photograph and generally adore. That access is something we think we always had. It seems right, it makes our lives better and we are happier for it. Maybe we even take it for granted because these areas have been our playground for so long.
But were it not for one man, it could well have been otherwise. The Northland and Auckland land may well have been the preserve of the rich, locked away from our eyes forever.
Darcy O'Brien is a quietly spoken unassuming gentleman who will only agree to tell us his extraordinary tale to honour others, never himself.
It is a story so strange, it beggars belief that it was ever forgotten.
"I'll agree to it, for the sake of all New Zealanders and the belief in the public ownership of the conservation estate," says the 95-year-old over afternoon tea at his Belmont, North Shore home of a request for an interview. "It's a story that could be told because of the need for people to be aware of the possibility of losing some of our jewels."
Mr J.D. O'Brien - as he was known in the media at the time - was assistant Auckland commissioner of Crown lands in 1957 and, a decade later, Auckland commissioner of Crown lands, a title he held until he retired in 1976. He was at the centre of at least 40 separate purchases which gave the northern area its most precious northern conservation estate of well over 5000ha.
No other New Zealander has ever come close to achieving so much in this field, as with the support of successive governments and ministers of lands and survey, he created some of New Zealand's biggest reserves, public land now in the Department of Conservation's (DoC) hands.
"I've never kept a tally of the total number of hectares I bought," he says. It all kicked off with Mission House in Kawau Island in the Hauraki Gulf, when he says its private owner was feared to be negotiating to sell the late Governor George Grey's home to foreigners, well before any overseas investment protection was in place in legislation.
Critics say DoC does New Zealand no favours over maintenance of and access to the conservation estate but Mr O'Brien's admirers say we owe him a huge debt.
"The 1960s were a difficult time for New Zealanders. People from other countries had discovered our coastal area and an enterprising land agent in Kerikeri was negotiating sales of precious coastlines to North Americans and was even being lauded for his efforts and enterprise," he recalls.
Sometimes, Mr O'Brien would hear of land coming on the market and he tells of fast dashes up to the Far North to negotiate, sometimes well into the night, under dim generator lights in remote areas.
Chris Darby, head of the Devonport-Takapuna Local Board, can think of few people who have been as influential nationally or who he admires more, partly due to the deep humility Mr O'Brien shows for what he achieved during his career. "The nation owes a huge debt of gratitude to him," Mr Darby says, "and the country would be much the poorer without the tenacity, skill and huge range of abilities he displayed."
Selfless service to fellow human beings is at the very core of his being, fuelled by his unstinting belief in Christian values, he says.
"He has built treasures beyond price for others and so he himself is a living treasure," Mr Darby says.
In the Herald archives thick files describe how many of his purchases cost about $2 million, a paltry amount compared to the vast areas he bought, and less than the price of a single Herne Bay mansion these days.
"Our man in the land grab" said the Herald on May 18, 1974, on his retirement and role with what was then the Department of Lands and Survey. It summed up just some of his accomplishments: creating the 9300ha Hauraki Gulf Maritime Park and becoming the park board's inaugural chairman; purchasing Red Head Island, Urupukapuka Island, and Moturua Islands in the Bay of Islands; and buying Motukawanui Island, the largest in the Cavallis, for just $150,000.
Other articles tell how he bought land surrounding the Old Stone Store at Kerikeri, a precious part of New Zealand's history, extended the reserve on Auckland's Bastion Point from 30ha to more than 40ha, and extended pubic ownership of the country's most northern tip at Cape Reinga/Spirits Bay. A 17,000ha reserve there increased during his time, with the 4370ha Mokaikai block east of Tom Bowling Bay vested in the Crown. Those two blocks alone have 80km of coastline. Land around the Marsden Cross north of Paihia and Matai Bay further south were some other victories.
A story headlined "Preserving coastline his delight" in April, 1974 reported that the people of Northland and Auckland should consider themselves lucky for this World War II veteran's achievements in the public service.
"Mr O'Brien has become the biggest real estate agent in the north and all for the benefit of the public. In the past four years, he has guided the public purchase of 30 major coastal areas totalling 4928ha and at a cost of $1,320,000. He has also made commitments to buy nine more properties at a coast of $547,000," the Herald reported.
Islands of the Hauraki Gulf, including Rangitoto, Motutapu and Motuihe, were being administered by Auckland Council Council and Devonport Borough Council but, in Mr O'Brien's time, were brought back under control of Lands and Survey.
Coastal land protection was his first priority "because it's the most threatened land in New Zealand", Mr O'Brien said at the time. The department surveyed the coastline to ascertain which areas were the best for reserves, then he methodically went about picking them off, one by one, approaching land owners who he recalls in hindsight could have sold to anyone. The public purse was no more powerful than the private when it came to picking the buyer. But he formed alliances with particularly influential people who assisted the cause.
Bruce Tubb, with Lands and Survey for 19 years and Department of Conservation for 25, did not hold back in his praise.
"He is one of the most remarkable and outstanding public servants this country has ever produced," he said.
This unpretentious land battler is keener to shift credit to those he worked with and the ministers who fought for the money to finance the deals.
"There should be more credit given to the government of the day. I've been sad to see land sold to foreigners," says Mr O'Brien, who spends his Monday mornings tending gardens on the side of Devonport's Mt Victoria, still loving the land.