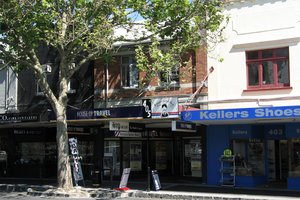 A fully leased two-level building in the heart of the Remuera shopping village close to Victoria Avenue is up for sale with one tenant having signed a new 10 year lease before the property was put on the market.
The block of three shops and upstairs office space located on a 245sq m site at 405 Remuera Rd has always had a good leasing history, says Alan Haydock of Bayleys, Auckland, who is marketing the property with Phil Haydock.
The property, which is producing net annual rental income of $125, 869, is part of Bayleys' latest Total Property portfolio and will go up for auction on December 5. "The property has worked so well with the tenants, that one of them, the barber shop, has signed a new 10-year lease to obtain long-term security over their premises," says Alan Haydock. "As far as I am aware there has never been any vacancy in the building. Most of the shops along that Remuera strip have been continuously occupied and they are very tightly held."
The 1920s character brick and timber building comprises two first level office tenancies and three ground level retail occupants with a total floor area of 175sq m. The ground level features a pedestrian thoroughfare providing direct access between Remuera Rd and the large Clonbern Rd car park, and the Village Green, which has recently been reopened after upgrade works were completed.
Phil Haydock says it is one of the best positioned properties in the Remuera shopping precinct because of the pedestrian thoroughfare and the large public car park at the rear which also services the New World supermarket on Clonbern Rd.
The ground floor tenants are the Remuera Real Estate Registry Ltd, a boutique real estate agency; the Remuera Barber Shop Limited; and the travel agency Tour Company Limited. In addition to its ground floor retail space fronting on to Remuera Rd, the Tour Company also has two adjoining office areas at the rear of the first floor overlooking the Village Green.
The Vital Skin Clinic occupies the front section of the first floor and has an upmarket interior, says Haydock.
The property has a weighted average lease expiry of over four years and all tenants, apart from the barber shop, have rights of renewal that will see their leases expire between 2019 and 2024 if these are exercised.
Alan Haydock says Remuera is always a popular investment destination because it is one of the wealthiest suburbs in the country. "Well leased buildings in the vicinity have a 'trophy' value, in that people can drive past them going about their daily business."