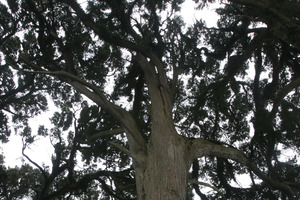 The prospect of their homes basking in sunlight after years of shading by a huge tree is being celebrated by a group of Manurewa residents.
The owners of three properties in Arthur St had to fight for their share of northern sun after they learned a 50-year-old totara on a neighbouring property was recommended for Auckland Council's schedule of protected trees.
The tree's owner did not object to protection, so it was up to the five residents to show it was a nuisance to the commissioners, Bill Smith, Rebecca Macky and Ken Graham, who were delegated full responsibility by the council to decide the Manukau District Plan schedule.
The panel agreed to add to the list about 200 significant individual and groups of trees but in their decision said they gave considerable weight to the views of those who have to live with the effects of the trees.
After visiting the home units in Arthur St, the panel said the neighbours' health, safety and amenity outweighed the views of the tree owner and council's experts.
The panel said damp and mould inside the units "compromises the quality of life and amenity values".
An arborist advised that pruning to let the light through would halve its dense foliage and merit for scheduling.
People need to apply for resource consent for works proposed on, near or under scheduled trees.
Residents' spokesman Dene Bowmar said the decision was common sense "because it's in a bad spot" and offered the prospect of work that would be fair to residents.
However, the tree's owner said he was surprised it missed out on protection because it had scored highly in the arborist's checks.
A Howick land owner, Kevin Farmer, failed to persuade the panel to leave his pohutukawa and a Norfolk pine off the schedule.
The Herald reported the felling of several other trees on his property at 96 Marine Parade in January, when the Government removed general protection of trees on private urban land.
At the time, the felled trees were nominated for the protected schedule.
Mr Farmer said the two remaining trees would restrict future development of the site.
The panel said he gave no proof of development plans and could put his concerns when he applied for a resource consent.
In Manukau, arborists assessed 742 individual and groups of trees before putting forward about 200 for adding to the schedule.