51 Pacific Parade, Army Bay, Whangaparoa.
SIZE:
Land 1184sq m, house 549sq m.
PRICE INDICATION:
Coastal properties of this quality sell in the vicinity of $2 million-plus. Set sale date November 21.
SCHOOL ZONES:
Gulf Harbour School, Whangaparaoa College. Private Wentworth Primary and Wentworth College nearby.
CONTACT:
Brent Piper, MRE Property, ph 489 5133 or 0274 906 941.
FEATURES:
An architectural, award-winning 7-year-old Japanese-inspired home at Army Bay, on the Whangaparaoa Peninsula. The house features four separate living areas and five bedrooms, and opens up to a choice of stylishly landscaped outdoor areas.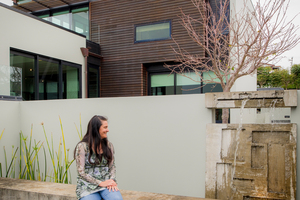 With four children aged from toddler to teenager, Ian and Jennie Langridge need a bit of zen in their lives. And plenty of room. And good storage.
It's no accident that their Army Bay house has loads of all of the above. When they built it seven years ago they wanted to ensure plenty of space for the kids to grow and for the adults to escape.
Perhaps to counter their busy lives, they found themselves drawn to a serene Japanese design theme, influenced by Ian's regular business trips to Japan. Jennie's brother, Alan Polkinghorne, is a designer who's also spent a lot of time in the country so, with architect Gerrad Hall, he enthusiastically took up the challenge of creating a family home in a modern Japanese style.
"Basically, we left it up to them," says Jennie, "as long as it had enough bedrooms and space."
They had a good starting point - a quarter-acre corner section with broad sea views to the north and west, on a quiet street on the Whangaparaoa Peninsula.
While Gerrad worked on the shape of the house, Alan filled in the details.
They came up with a roomy two-level design with outdoor spaces in every direction. The enormous main living area opens up to a large deck and pool to the north, a wabi-sabi influenced rock garden to the west and a sheltered barbecue area to the east. The master suite upstairs opens to a deck. The teenage retreat has decks to the east and west. The family room opens to a lawn, as well as the barbecue area. And the home theatre room flows out to the wabi-sabi garden.
One of Alan's master strokes was a rough-hewn concrete wine cave at the centre of the atrium foyer. Jennie says this was one of the first things that went in during the build, and the neighbours speculated that they were installing a panic room.
The house design won Gerrad a New Zealand Institute of Architects award in 2007. "The spaces have an intensely crafted level of detail and materiality that, despite their size, maintain an intimate domestic scale," said the judges in their citation. "This large and functional family house achieves a rare level of elegance."
These clever details include imprints in the ceilings above the kitchen and cinema room that are designed to resemble bento boxes as well as hide lights, heating and technology. Textured concrete under the kitchen benchtop and a long window seat in the living room suggest origami folds. Solid oak sliding doors were overlaid with rice paper to echo traditional Japanese screens (without the fragility). One such screen door hides the master en suite, with a sunken bath to complement Jennie and Ian's traditional Japanese low bed.
Enormous black-framed windows throughout the house make the most of the view, while emphasising the soaring ceilings and indulging Jennie and Ian's preference for clean lines.
They used natural materials throughout - a black granite kitchen bench, American oak floors, cedar weatherboards, concrete block construction, stone feature walls - and endeavoured to unite indoors with out. The most striking example of this is a small canal of white pebbles dug into the floor of the master bedroom.
Ill health is forcing the family to downsize, though they're keen to stay in the area they've lived in since abandoning inner-city life 12 years ago.
"We wanted to get near the sea. We didn't think we'd ever come and live up here, but we've just loved it," says Jennie.