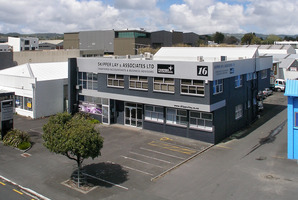 A two-level freehold building in Papakura with annual rent of $121,566 plus GST and expenses is being marketed as "a superb standalone office property on a busy arterial route".
No 16 Elliot St is leased long-term to chartered accountants and business advisers Skipper Lay & Associates and is being sold by deadline private treaty closing Wednesday, November 7 through Cam Paterson and Herman Trebitsch of Barfoot & Thompson Commercial.
"The building is set back from Elliot St with 10 car parks in the front of the property," Paterson says.
"There is also side access to the property to the west, and a further two car parks to the side. Access to the property is through the main entrance on the ground floor."
Both levels are occupied by Skipper Lay on a nine-year lease beginning on April 1 last year and expiring on March 31, 2020, followed by a six-year term expiring on March 31, 2026.
Rent reviews are every three years.
The building's ground-floor offices are 219sq m, and first-floor offices 332sq m with a storage area of 67sq m. The office is divided into meeting rooms, open-plan office space, directors' offices and reception areas.
Kitchen facilities and bathrooms on both levels give flexibility for an easy separation of the levels in the future, Paterson says.
The main structure, completed in the 1980s, is of concrete and steel construction with a long-run steel roof. The balance of the site is sealed and used mainly as car parking.
Trebitsch says that overall the property is in good condition and is built of low-maintenance materials perfect for the hands-off investor.
Skipper Lay has been a long-term occupier of the property, moving to Elliot St in 1988 with the name changing to Skipper Lay and Associates in 1999. The firm has about 30 staff and mainly services localised businesses and farming interests, offering a wide variety of services including financial accounting, tax planning, management accounting, trust planning, debt structuring, employment, payroll processing, information technology advice and risk management.
"The tenant is as good as they come, also making this property ideal for a long-term investor looking for a secure investment," Trebitsch says.
The property is zoned urban commercial 3, which covers Papakura's central business area and includes railway land on the southeastern edge. Within the commercial 3 zone are special policy areas for the core retail area and the railway precinct.
Trebitsch says Elliot St is one intersection from Great South Rd, the main route through Papakura.
Paterson says Papakura is a 25-minute drive from the central city and is likely to be one of the areas where population will continue to rise well above the Auckland growth averages. He says the strong passing trade along Elliot St may in time result in conversion to a retail use.
"The property has a favourable configuration for retail use as the building is set back from Elliot St with sealed car parks in the front."