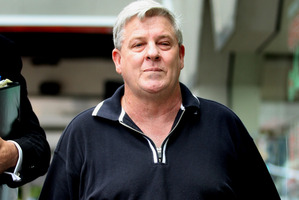 Auckland property developer George Bernard Shaw is taking on council planning rules again - six years after incurring a $165,000 penalty over illegal removal of a pohutukawa.
Mr Shaw, known as Bernie, is trying to replace one large Onehunga house with three stand-alone brick and tile units.
He said yesterday the project had cost $50,000 in council fees.
Resource consent had been granted for two units on the section at 45 Trafalgar St and they were nearly completed and worth $800,000 each.
"They are the affordable new quality housing the public want to buy: double garages and not big grounds," he said. "We should be able to put up what the public want."
But his aim to add a further three-bedroom unit on the corner of the site is opposed by council officers and planning commissioners.
The commissioners, Alan Watson, Gwen Bull and John Hill, said it would be "over-development". It would be out of character with the neighbourhood of older houses, open front yards and mature trees each site gave to the streetscape.
The decision noted that mature trees and a large house in two flats were removed to prepare the site.
But there was not enough space for a third unit in the residential 6A zone, where the council specified a minimum lot size for subdivision of 400sq m.
The whole development fell 50sq m short of the required site area, exceeded building coverage by 100sq m and was also short on landscaped area.
Building coverage was 10 per cent above what was normally permitted and even a single-storey development would look "cramped" on the site.
Granting consent would raise the expectation of applicants with similar proposals that controls would be relaxed for them. This would challenge the integrity of the district plan.
Mr Shaw said he was considering an appeal to the Environment Court.
The shortfall in site area was revealed as a result of a survey after the property was bought as a three-unit site.
"It's not like I've gone out thinking I have 50sq m under and try to get three on it," he said.
"We bought it as an 1128sq m site and for 40-50 years the council has charged rates on that area."
Infill housing on sites less than 375sq m had been allowed in the neighbourhood, which was on a district arterial road, next to a school and handy to amenities.
Mr Shaw said he had several projects since 2006 when he was convicted for ordering the removal of a 100-year-old pohutukawa from a Royal Oak site.
He replaced the tree and sold the site to another developer.